PaddleFit And PappaSurf: Find Physical Fitness in The Bahamas
Rum, roti, cracked conch, macaroni pie, days spent sedentary on sandy beaches — it can be awfully tempting for Caribbean travelers to surrender themselves to the waistline-wrecking wonders of the West Indies.
Luckily our region comes equipped with an equally exciting array of ways to remain fit, healthy, and looking great, like running, surfing, kayaking, and swimming. Sure, those are all great but combine them together, then add a dose of circuit training, and you've got the latest killer workout to hit our shores: PaddleFit.
I got my introduction to the world of PaddleFit on a recent trip to Nassau.
There I was, down for business and stuck in meetings for days. For days!
You might be surprised to hear that Steve and I find ourselves in these ridiculous situations more often than we'd like — happily on some island paradise, but stuck sitting around in a dark, overly air-conditioned conference room, and often eating poorly.
Outside, I knew, the sun was shining, birds were singing, adventure was waiting, and the beach was calling my name. Thanks to The 700 Experience Blog's lovely curator, Vanessa Pritchard, I'd heard of PappaSurf's PaddleFit class in passing and was intrigued. I knew nothing about it, but just from the name, it sounded like the cure for the vitamin D deficiency I was surely acquiring.
In a break between meetings, knowing nothing more than the name, I scheduled the class for first thing the following morning. Upon hearing me mention my excitement about the morning of pleasant paddle boarding I'd just signed up for, one of my colleagues asked to join.
"Sure, it'll be fun!"
Little did we know what we were getting ourselves into…
As the sun was still inching up the sky the next day, we pulled into Goodman's Bay Park. The wind was whipping across the bay. The usually impossibly blue waters of The Bahamas were replaced this morning by choppy waves made nearly tan by all the stirred-up sand.
Undaunted, we enthusiastically sauntered over to the big yellow paddle boards laid out on the beach. There we met our instructors: Jasmine, Lucien, and Theodore David Johnson the third! (But you can call him Theo.)
During the usual West Indian morning pleasantries and introductions, I spied out of the corner of my eye this sign:
Wait a second. Jogging, high knees, butt kicks, skips, grapevines (what?), bear crawls, mountain climbers, squats, crunches, a-frames (what are those?!), push-ups, two-minute water break, REPEAT?! My visions of serenely paddling around vanished. Poof!
Yes, the operative part of the PaddleFit name is the "Fit" part!
Created in 2007 by Brody Welte, a certified Personal Trainer with the American Council on Exercise, and all-around adventurer and waterman, PaddleFit combines paddling, progressive technique, on-land exercises, and more for amazing results.
Basically, it kicks your ass while keeping a smile on your face.
So, without further ado, we dug into the land-based exercises. It was a fast circuit of all the exercises. Back and forth. Back and forth. High knees. Butt kicks. Bear Crawls. Down! Up! Run! Push it! More and more and more!
Lucien kept us pumped while Jasmine kept us on pace. They were a great duo that made the pain a pleasure. Although more than once, my colleague turned to me with a look that practically screamed: "I didn't sign up for this!"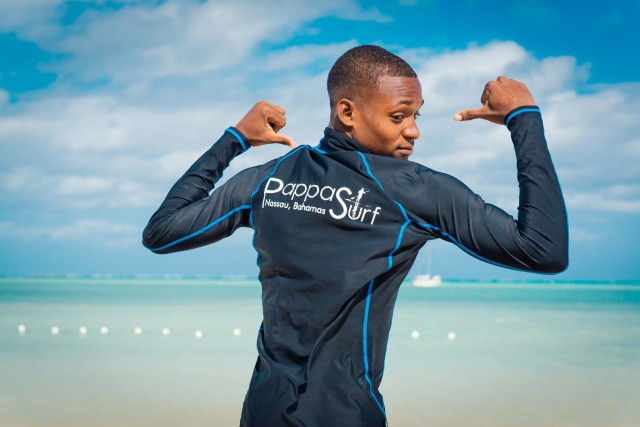 Still, we made it through… But then came the "Paddle" part!
With the wind still whipping across the bay and choppy waters as our adversary, it was more than a little bit of a challenge just to handle our SUPing duties, but we were also supposed to be doing the full circuit of push-ups, squats, crunches and more… On our paddleboards!
We fought the elements, but the elements won. In the end, we settled for just fighting to stay up and paddling as our on-water workout. Believe me, it was more than enough.
Back on dry land, we got our reward, that unmatched feeling of having succeeded at a challenging full-body workout!
Ideally, PaddleFit is a long-term training regiment designed to change your life, but if you're just looking for a quick way to combat all the cracked conch, rum, and limin' a trip to Nassau is sure to provide, a few hours on the sand and sea with PappaSurf can't be beat.
Related Posts