Friday Happy Hour: Battle of The Beach Bought Rums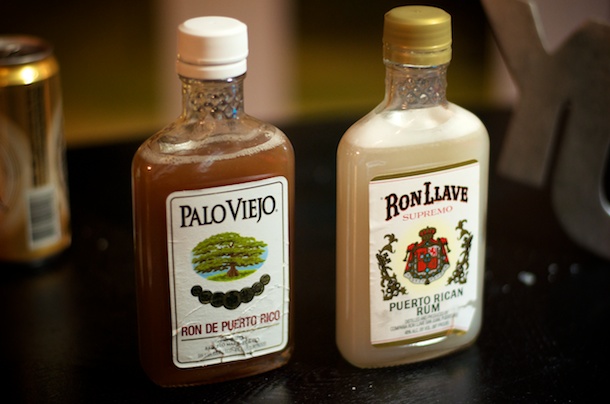 When traveling, I've always been drawn to trying local homemade recipes. I mean, you just never know what you're going to get. So, when a friend of mine picked up two repurposed bottles of suspicious liquids masquerading as infused rums from some random guy on the beach near Fajardo, I knew we had to have a taste test battle of the beach bought bums rums!
But first, let's get something straight right off the bat. What's in these bottles has little to do with the proud family traditions we've covered before. The recipes used to create these concoctions haven't been handed down for generations like Mizer's bush rum in Montserrat or family mamajuana recipes found all across the Dominican Republic. And these "infusions" are certainly a far cry from Kali's sun baked delights in St. Martin or CuisinArt's artisanal masterpieces in Anguilla.
This stuff is simply the product of some enterprising folks looking to make a buck off beach goers at Siete Mares Beach.
Still, we've covered some of the most expensive and storied rums in the world, so why not spare a little time to pit beach bought coconut infused rum against its scrappy tamarind brother?
How'd they fare? To get the full experience, why not join me and a few of my travel buddies (our host and the purchaser of these questionable bottles, Pedro doing much of the talking) at a bygone happy hour in a cozy rental on the beach — all captured in the video below:
We Sample Random Rums Bought on The Beach Near Fajardo, Puerto Rico
So, I know what you're asking:
If some random dude walks up the beach shilling little repurposed bottles of infused rums, should I buy some?
Wellllll… I wouldn't say 'no.'
After all, it's better to regret things you've done than things you haven't, right? Your mileage may vary, but that's part of the fun!
¡Salud!
Related Posts