Polly's at the Pier, St. Croix's Corn Belt Connection for Gourmet Coffee
With as integral a role as the Caribbean played in the proliferation of coffee throughout the western world, it is somewhat surprising how difficult it is to find truly amazing coffee in much of the region. Our friends in Jamaica notwithstanding, I'm talking about that particular gourmet import from that exotic place you can't even pronounce that you stumbled upon at that nameless hole-in-the-wall Bohemian roasterie in the artsy part of town. Bold, complex and robust, with penetrating flavors and a resonant finish, it's miles beyond the Folgers you'll find poured in your cup when you sit down for most meals in most eateries on most islands. Of course, my home island of St. Croix is not most islands. It stands to follow, then, that true coffee connoisseurs can get a gourmet java fix in STX at Polly's at the Pier.
The Passion Behind Polly's
Located on the waterfront in Frederiksted, just a few steps from the cruise ship pier, Polly's is the passion of a couple of guys from the Midwest (Steven from Iowa and Seth from Illinois). The pair vacationed in Saint Croix a few years ago, fell in love with the island, and promptly decided to improve the local coffee situation. To do so, they turned to Zanzibar's Coffee Adventure, a full-service coffee roaster and cafe in Des Moines that had been a favorite of Steven's.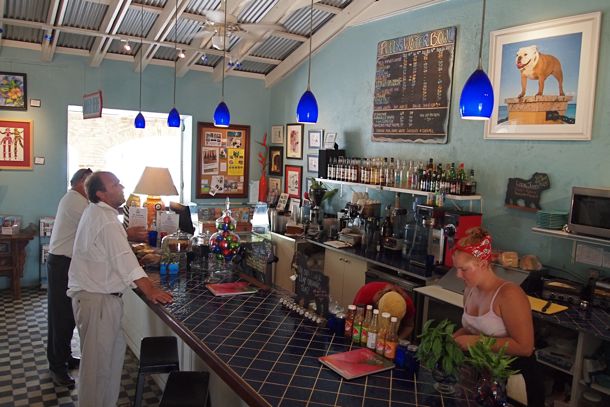 Zanzibar's carries just the type of exotic coffee from places no one can pronounce that I mentioned earlier. They roast it all on-site in Des Moines, resulting in optimal freshness and rich gourmet flavor; exactly what Steven and Seth wanted for St. Croix. The duo soon struck a deal ensuring that the same world class coffee served at Zanzibar's is exactly what you can enjoy at Polly's at the Pier.
Now, if you're worried about freshness, don't. All the coffee shipped from Zanzibar's arrives at Polly's two days after its roasted in Des Moines. When it comes to coffee in St. Croix, you won't find a better combo of quality and freshness.
More Than Great Coffee
The coffee, though, isn't all that's great about Polly's. As a Crucian myself, I particularly love the way Steven and Seth support and promote other local businesses, artists, and performers. As Steven puts it:
Our focus is to source everything locally – artists, beauty and wellness products, farm produce, etc. – to offer the best of what the island has to offer.
Everywhere you look at Polly's you'll find evidence of this local support. From the art on the wall, to the Miss Anna's hot pepper sauce on the bar, locally-made jewelry, crafts and more, Polly's is as Crucian as an eatery that imports its main product from the Corn Belt can be.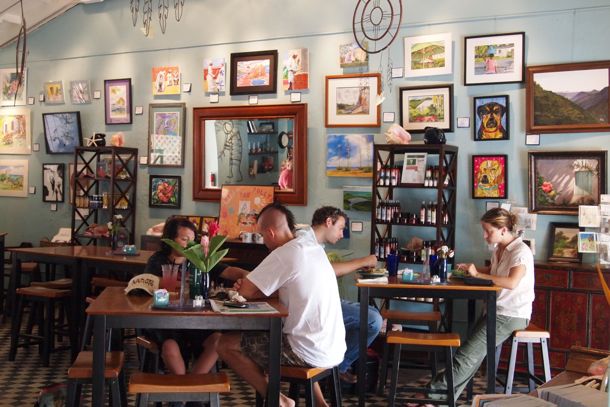 This emphasis on all-things-local extends to the food served at Polly's, which features produce grown on-island by the Ridge to Reef Farm and Tropics Hydropnics Farm. Pretty much the only things not from St. Croix at Polly's are the coffee, the owners and Polly herself.
Indeed, Polly is a real-life English Bulldog. Steven had previously raised her parents back in Iowa, so of course, he brought her with him to St. Croix for the new adventure that resulted in her becoming the name and face of gourmet java on the island. If you're lucky when you visit, you'll get to meet her over a healthy snack and some seriously good coffee.
Polly's At The Pier General Info
Polly's is open Monday–Saturday from 8am to 3pm. Sunday hours are 8am to 1pm. They regularly host live entertainment, featuring local spoken word artists, singers, dancers, poetry readings and art shows. To keep up on the latest goings-on at Polly's, click here to access their Facebook fan page.
Related Posts