Villa Morales Restaurant, St. Croix – Crucian Food at its Finest
Authenticity, it's what we all desire of our travel experiences. Uncommon travelers don't just visit far off places, they immerse themselves in the local scene, preferring charming and distinctive hotels with character over sprawling resorts; gritty, grimy gas station bars versus trendy clubs; and real local food in place of familiar dishes easily enjoyed back home. On our home island of Saint Croix, one place embodies all of these uncommon travel wants (and more). Its name: Villa Morales.
The Best of St. Croix
A Crucian institution dating back 60+ years, Villa Morales is a must stop EVERY SINGLE TIME you should happen to find yourself in St. Croix. As you can see in the sign pictured above, Villa Morales can also serve as your home away from home in St. Croix, offering a handful of clean, affordable, and very local guest rooms to choose from.
Single rooms with refrigerator and no a/c (I said it was really local, right?) start at just $45 per-night! Rooms with a/c and refrigerator go for $50 per-night and up.
Accommodations, though, are not the biggest draw here… es la comida!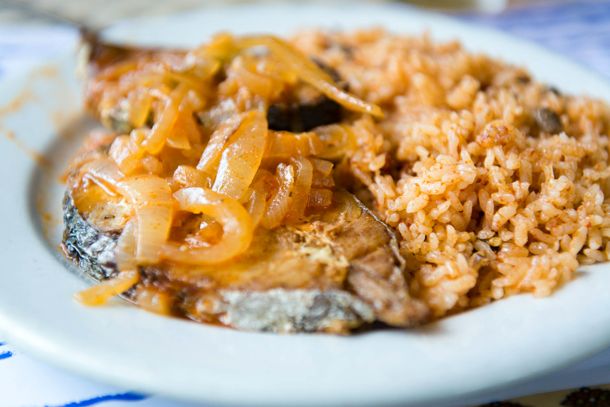 Angela (call her Angie) Morales took over the business from her Mom, who started the original restaurant, then named Chico's, on King Street in the heart of Frederiksted, back in 1952. The name was changed when the restaurant moved to its current spot, just off Centerline Road a wee bit west of the Estate Whim Museum and Great House, in 1962.
The restaurant's longevity gives you the sense that Villa Morales is doing something right. It's not until you actually walk in the place, feel the vibe, and taste the amazing food, though, that you get the full picture.
On The Menu at Villa Morales
The menu is loaded with local favorites – stew beef, stew chicken, stew goat, roast pork, roast goat, boiled fish and fungi, rice and beans, Johnny Cakes, plantains, tostones – all prepared with love and a distinctive Latin flair stemming from the Morales family roots in Puerto Rico.
If you love seafood, Villa Morales is definitely the place to be on St. Croix! Local fishermen reserve their best catches for Angie, so you can be assured of enjoying the freshest, most succulent fruits of the sea here. Mahi, red snapper, shrimp, lobster, conch, even lionfish are all regularly available.
Seating is informal, with indoor and outdoor options on a mishmash of tables and chairs, some of which look a bit like they might date back to the old Chico days. Not that it matters. You don't come to Villa Morales to cut style; you come here to eat the best damn local food on the island.
Oh yeah, and to drink.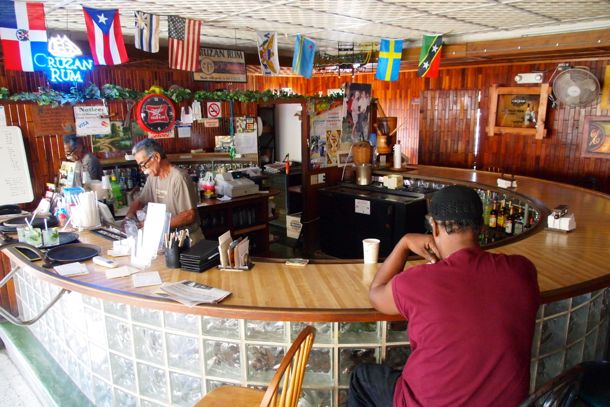 Angie's husband, JT, is THE MAN behind the bar.
The Mojito Man of St Croix
His nickname, Don Bigote. (Just look at his most awesome mustache!)
His signature drink, el mojito.
You'll hardly ever meet anyone anywhere with more zeal for life than JT. This is a man who truly lives every single day to the fullest, out loud and with a passion that just cannot be measured. His drinks are strong. His smiles are broad. And his warmth will have you always wanting to come back to Villa Morales again and again.
Editor's note: Sadly, Villa Morales closed its doors in April 2019. The party put on by Angie and JT continues, though, albeit on a smaller basis, at Sand Castle on the Beach. The cute and cozy hotel in Frederiksted hosts Villa Morales at Sand Castle on the Beach every first and third Wednesday of the month. JT and Angie take over the kitchen and bar, serving select favorites from the original Villa Morales menu. For details, call Sand Castle on the Beach at Tel: 340-772-1266.
Related Posts