On-Site Bequia: Hiking (Most of the Way) to Bequia Head
Young boy, listen; I'm telling you, you did not make it.
I was met with this bit of playful disrespect a few weeks ago immediately following an exhilarating and, I thought, wholly successful hike to the tippy-top most northern point of Bequia. The man delivering the blows was a local friend of a friend who claimed to have traipsed all over the hilly undeveloped bush land for years, even going so far as to camp in the untamed underbrush.
A few quick glances at my photos and he knew I hadn't made it all the way. On my side, though, I had technology.
The Olympus TGi tough camera I took along on this adventure comes equipped with GPS photo-tagging capability, so you can easily map out exactly where your photos were snapped.
My new friend looked at the map. He shook his head. He was still not convinced.
Nah, yoh ras ain't make it.
Why the confusion? Well, unlike trails that follow ancient water pipes (exhibit A), or well-marked paths through protected nature preserves (exhibit B), the wayward routes that wind their way in, around, up, and through Bequia Head are not that obvious to make out.
In some ways this adds to the adventure. In others, it repeatedly raises those two most vexing of travel questions – "Are we there yet?" and "Where the Hell am I?"
Of course, it doesn't start out that way. Indeed, if you're staying at The Beach House at Sugar Reef, as I was, the hike literally starts with a leisurely stroll away from the front door. Make a right at the main road heading north past the Turtle Sanctuary and some very picturesque towering coconut palms…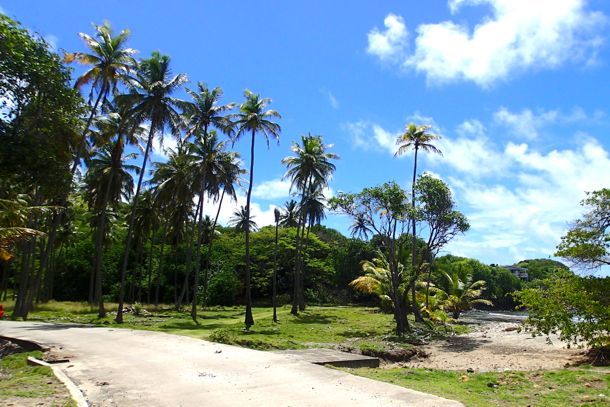 Cows and goats lazily grazed on either side of the road here, serenading me as I walked along. This, I remember thinking, would be the easy part.
Eventually I came to an old rock quarry where there appeared to be two different paths to take; one that went straight up into the bush, the other along the coast. I opted for the coast and was rewarded with views like the one at the head of this post and this one…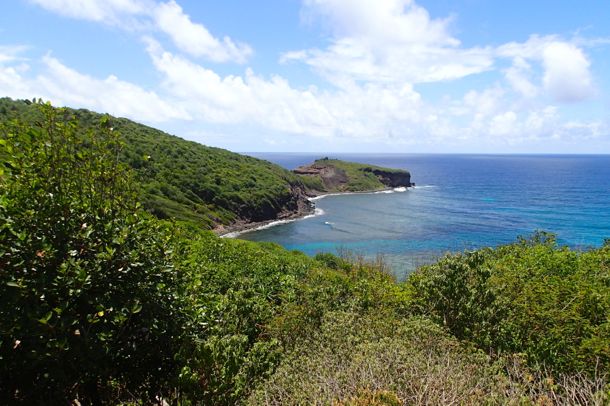 The path I followed was more of a road, certainly wide enough for a vehicle, but rugged on a scale solely suited to a 4×4. Along the coast, it was open and breezy. As I went on, though, it got a bit more cramped…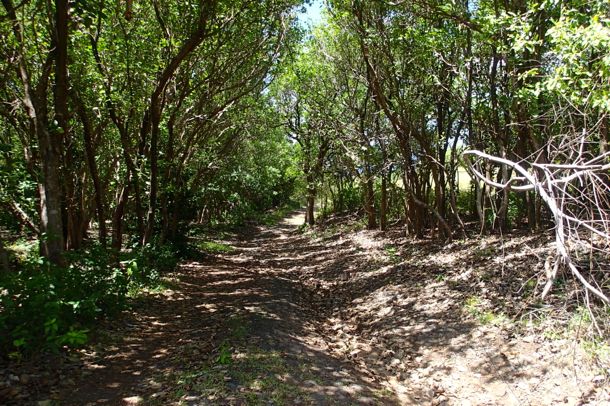 About five paces from this spot I had to make another decision. One path went straight, the other to the right closer to the coast and past a rotting old house.
Again, I opted for the coast, enjoying small peeks at her beauty through the trees…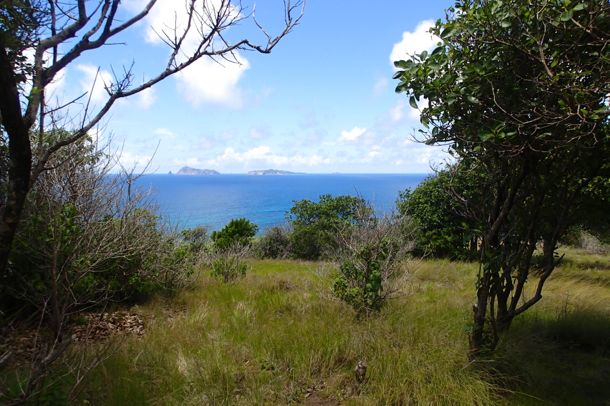 From here the road soon narrowed to a path climbing steadily as trees encroached increasingly all around me. I couldn't see the coast at all before long, its presence marked only by sound. Soon even that began to confound as I started to hear crashing waves on both my right and left.
Where the Hell am I? Are we there yet?
Bequia Head narrows as it reaches its northernmost point. The sounds of the sea surrounded me more and more. Surely I was getting closer, right? Ever-thickening forest and an increasingly invisible path seemed to suggest otherwise…
Now the water was definitely confined to my left. I could see glimpses of blue through the trees, but there was no lookout spot. Soon, there wasn't even a trail, at least not one that I could make out precisely.
Are we there yet?
I thought for a moment this must be it, or that I had made a wrong turn. Maybe I should've gone straight at one of those forks instead of always sticking to the right.
Where the Hell am I?
I decided to press on a little further. Soon I spied an opening. Was that ocean-blue just ahead? A little further… A few more paces… And then…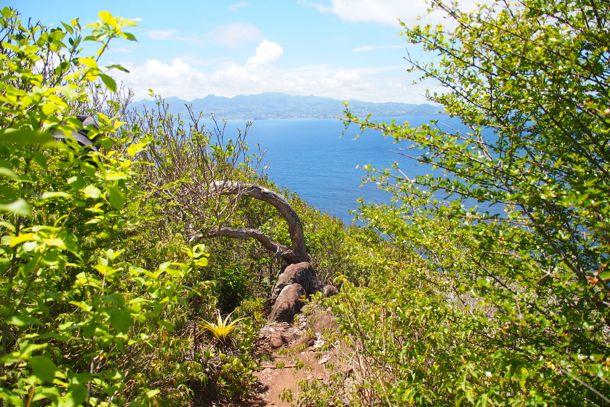 A tiny clearing, an impossibly windblown tree, and this amazing view of St. Vincent just nine miles away…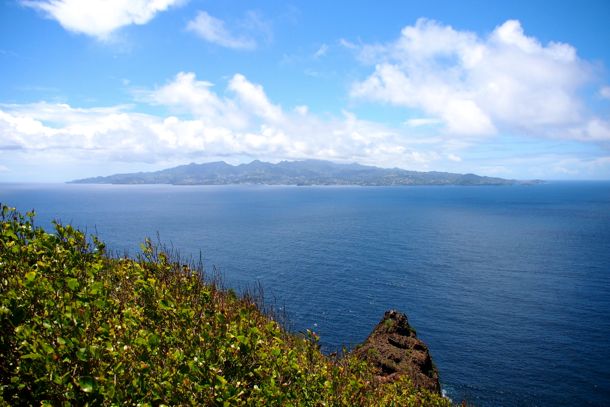 It's as sweet a payoff as I've ever enjoyed at the climax of a hike, but as my friend noted upon my return to Sugar Reef, I hadn't made it all the way to the tippy-top of the island. Zooming in on my aforementioned map, I found that he was right.
Apparently, there's a smaller trail that branches off from the one I was on. It leads to a beach way below the lofty perch I discovered.
From there you feel like you can touch St. Vincent!
Hmmm… I guess we'll have to classify this mission as incomplete and get back to Bequia soon…
Related Posts