One Rainy Morning Hiking St. Croix's Jack and Isaac Bay Preserve, Part I
Rain never puts a damper on my adventuring around the Caribbean, especially when I'm in my home island of St. Croix. It didn't stop the party on a recent "Sunday Funday" at Rhythms at Rainbow Beach. It didn't wash out a fun family forced hike to Sany Point either. So, when I awoke in my swanky hotel room at The Buccaneer a couple Saturdays ago to threatening skies, I could think of nothing better to do than to hike the Jack and Isaac Bay Preserve.
Located on the south side of the extreme eastern edge of St. Croix, Jack and Isaac are two of the most pristine and beautiful stretches of sand on the island; certainly among the most virgin of beaches in all of the Virgin Islands. As amazing as they are, though, it's safe to say that many who've visited St. Croix, or even lived there over the years, never set foot on them. That's because getting to Jack and Isaac has always been really, really tough.
To my knowledge, there have never been any real roads here. Just near-impossible dirt paths with cavernous pot holes the better of even the most capable off-road 4×4's that have dared test the treacherously steep slopes down to these pristine shores.
When I've gone in the past, it's been via the rocks around the point from Grapetree Bay further to the west, equally treacherous in other ways…
All that's changed now, however, thanks to a variety of local and Federal environmental groups that came together in recent years to establish The Jack and Isaac Bay Preserve. For anyone who loves St. Croix and cares about preserving her natural treasures, this is a big, BIG deal.
The Preserve covers a good 300 acres, essentially protecting the entire eastern tip of the island and its surrounding reefs and marine ecosystems. Not too long ago, this whole area was slated for the type of high-end residential development that would no doubt have precluded access to to Isaac and Jack way more than the rocks and poor roads of the past.
In addition to protecting the surrounding environment, the conservationists behind The Jack and Isaac Bay Preserve also made enjoying the amazing beaches here easier by installing a series of low-impact trails. They're real easy to find too. Just point your car toward Point Udall, the very eastern tip of St. Croix, and in turn, the entire United States. (More on that here). Just before you reach the Point Udall Millennium Monument, you'll see this little parking area.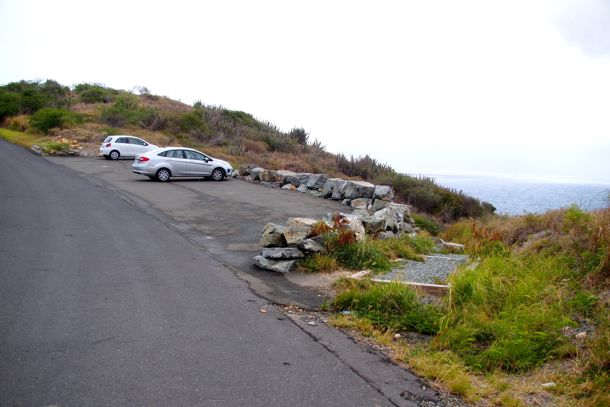 A few paces down those steps at the right and you'll see this sign…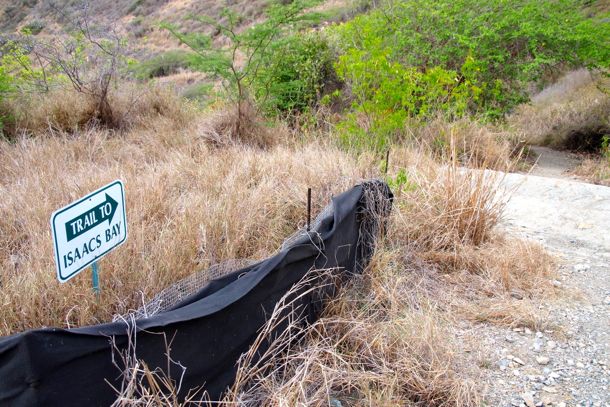 The trail isn't particularly steep or wide, though the guinea grass isn't so thick or bothersome that you'll need long pants or long sleeves. The footing is firm, with a minimal amount of loose rocks. The views along the way, spectacular…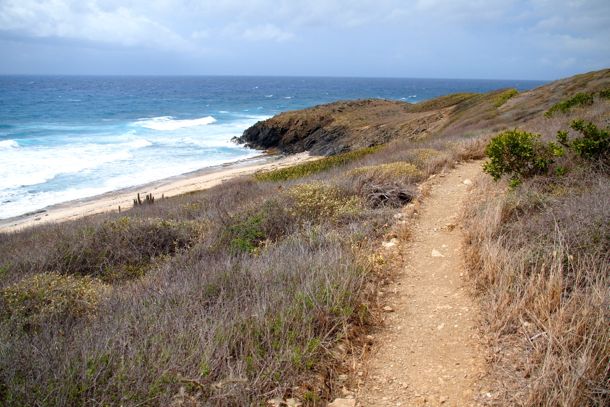 Towering hills to your right, the steady crashing surf to your left, it's as pleasant a nature walk as you can enjoy in the Caribbean, especially if you go early in the morning or on a cloudy day. A generally persistent wind keeps the temps down, but there's virtually no shade anywhere along this trail, so a big hat and plenty of drinking water are definite musts.
The walk from the parking area to the beach pictured above only takes a few minutes, but that's not Isaac's or Jack's. That's actually East End Bay. It's nice, but the rocky shoreline and rough surf make this one bay probably best admired from the trail. Trust me, you'll want to keep walking. A few more paces further west and you'll come across this sign…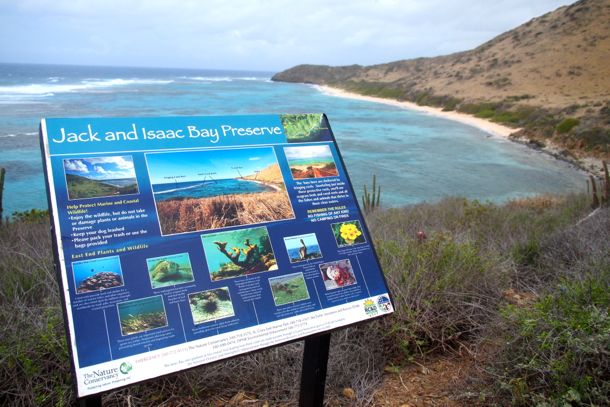 Anyone who's ever traversed this area before it became a preserve likely won't believe that such a nice and informative sign could be found here. It certainly came as a shock to me.
Still, it was nothing compared to what I encountered next…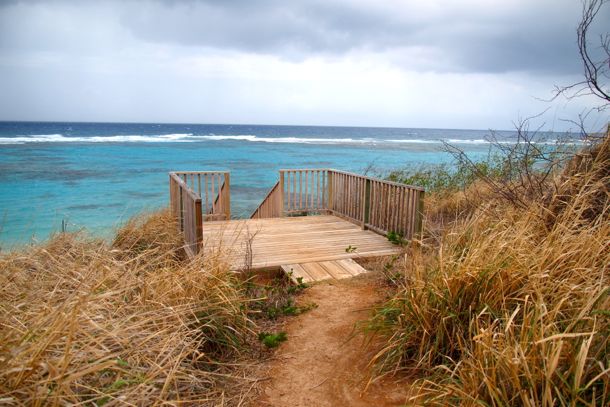 Yep, those are stairs – really nice stairs, actually – from the trail down to Isaac Bay.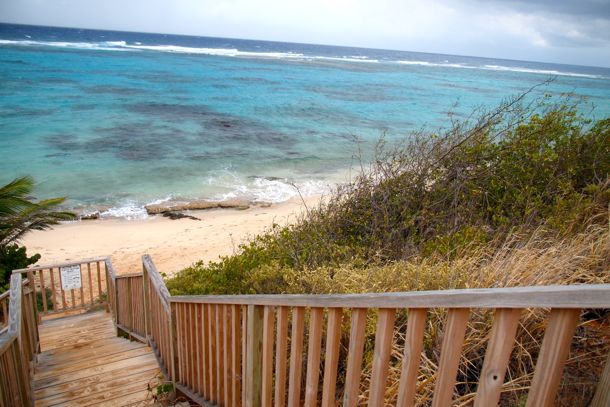 Follow these stairs down to the bottom, take off your shoes, and allow your toes to sink into some of the softest, most wonderfully supple sand this side of Buck Island…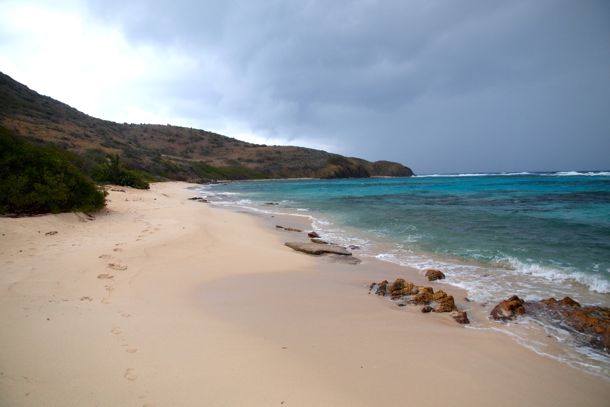 See that singular trail of footprints in the sand? Those are mine.
The time was 10am. I was all alone on a dream of a beach that I hadn't set foot on in about 20 years. Everything was perfect.
Well, everything except for that large, billowing sprawl of ominous black clouds to the southeast. They were heading right at me… FAST!
Tune in next week for part II to see what happens next…
Related Posts