Bahamian Boiled Fish Soup Recipe: Savor The Bahamas at Home
As noted previously, Bahamian boiled fish soup is the breakfast of champions in The Bahamas. Ever since my first early-am taste of it at the fantastic Abaco Beach Resort, I've been jonesing for more. Only problem, though, is that I haven't been back to The Bahamas since!
(Check out my full review of the Abaco Beach Resort for more on everything that I loved about this special place.)
Well, actually, I did spend a couple days in Nassau in the interim period. That trip, though, was for a business conference. You know, the kind where the breakfasts are of the "continental" variety. The kind where real Caribbean food is often quite scarce.
Ingredients:
2 pounds Skinless + boneless grouper fillets
3 tablespoons butter or margarine
2 lemons
salt to taste
2 cups of water
1/2 pounds of chopped potatoes
1 tablespoon chopped parsley
1/2 teaspoon of chopped garlic
1/2 chopped Scotch bonnet pepper
2 onions, diced
1/2 cup chopped celery
Yeah, from a culinary standpoint, I really could've been anywhere.
So, with no return trips to The Bahamas on my immediate horizon, I bit the bullet the other day and cooked up my very own batch of Bahamian boiled fish soup!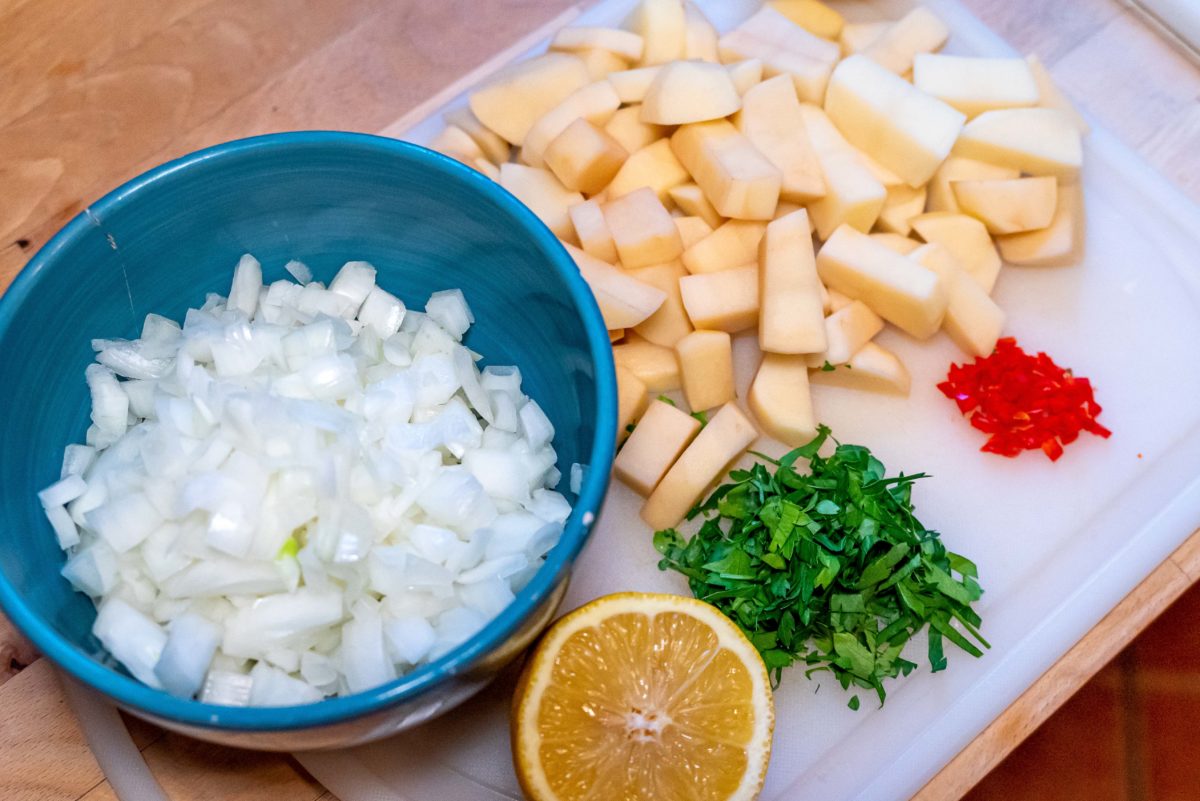 Grouper Makes it Great
True to the Abaco Beach Resort version, I opted for grouper as my fish of choice for my Boli, as it's known in local Bahamian circles. Among the world's many varied grouper fish, Nassau grouper are a bit sweeter in flavor. The meat is also high in oil. This ensures that it stays moist, though not so much so that it falls to pieces while boiling. The perfect fish for a steaming pot of soup!
Also included in the mix is a healthy dose of potatoes, onions, celery, Scotch bonnet, lemon, and other basic spices.
Super-savory and packed with all kinds of rejuvenating powers, Bahamian boiled fish soup is just what the doctor ordered when you've overdone it the night before. It also works wonders, though, when you need a warming energy boost any time of day.
Here's how to cook it up…
Bahamian Boiled Fish Soup in Three Easy Steps
Step 1: Wash your grouper fillets in cold water, then douse with the juice of half-a-lemon. Sprinkle with salt and set aside.
Step 2: Add your butter/margarine and two cups of water in your pot and heat over medium-high heat. Once it's good and melted, throw in your garlic, potatoes, Scotch bonnet, parsley, juice from a whole lemon, and salt. Heat to boiling and allow your mix to cook for about 10 minutes.
Step 3: Grab your grouper fillets and place 'em in your pot along with your chopped onions and celery. In the same motion, drop your heat down to simmer and cover your pot. Allow your soup to cook for about 10 minutes more. That's it!
Could there be an easier way to bring a savory taste of The Bahamas to your home? I mean, aside from cracking open a Kalik?
Seriously, try this Bahamian boiled fish soup recipe. If you love The Bahamas, you won't regret it.
Bon appétit!
Related Posts