Friday Happy Hour: Habitation St. Étienne Rhum Blanc Cuvée de l'an 2000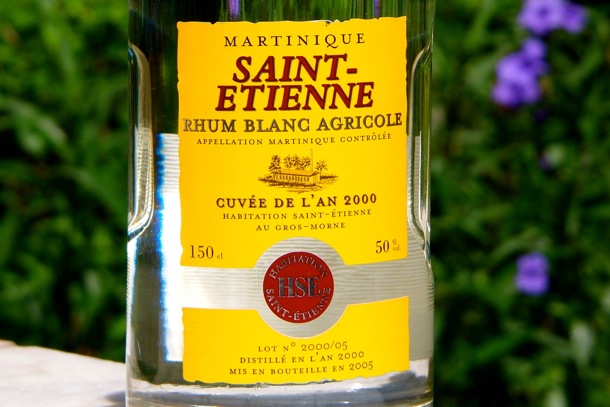 I have something new to share with you… F***ing amazing! You must come!
When you're in Martinique and you get an invite like that from someone like Chef Hot Pants, you go! This goes double when the F***ing amazing new thing is another exceptional rhum from Habitation Saint-Étienne.
Remember the three beautiful HSE rhums Hot Pants introduced me to in 2011? Well, on my latest visit just this past August he sprung the brand's Rhum Blanc Cuvée de l'an 2000 on me. My surprising reaction: WOW!
I say surprising as I'm not really a huge fan of white rums/rhums. Just usually not enough flavor, spice or sweetness in 'em to keep me interested.
Like the Rhum Bielle Blanc Super Premium we told you about last week, though, this HSE Rhum Blanc is special. What sets it apart is a unique added step employed by HSE in the rhum's production.
After the fermentation and distillation stages, your typical base rum emerges as a clear, devilish distillate packing way more alcohol than what eventually ends up in the bottles on liquor store shelves. Cruzan Rum back home in St. Croix, for instance, emerges from its three-column still distillation at a whopping 189-proof!
To bring the proof down to levels us regular humans can enjoy, most rum distillers simply add water, a process that's generally completed rather quickly.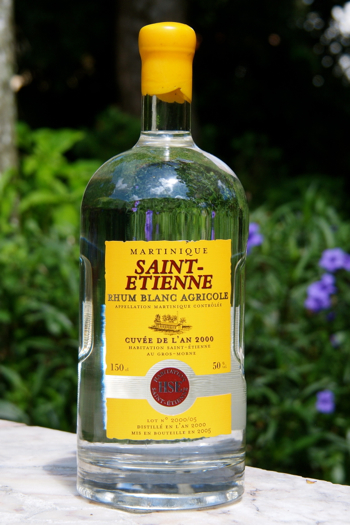 HSE takes a different tact, reducing the base distillate for Rhum Blanc Cuvée de l'an 2000 from 70% alcohol by volume to 50% over the course of two whole days.
It's said that this HSE Rhum Blanc is the only rum in the world being produced in such fashion, though not just for style points.
The added time the rhum is made to rest allows a bit of the alcohol reduction to occur naturally by evaporation. It's less watered down, which enables Rhum Blanc Cuvée de l'an 2000 to retain more natural true sugarcane aroma and flavor than you'll find in most other white rums.
On the nose, you sense the added refinement instantly, especially if you compare it with another typical white rhum agricole as I got the chance to do with Chef Hot Pants. The HSE Rhum Blanc Cuvée de l'an 2000 was soft and inviting, graciously welcoming my nose to loiter in my glass a good long while. The other rhum agricole was harsh and strong, instantly causing the whiplash that always results in low marks when I'm judging rums.
The niceness continues on the tongue, where Rhum Blanc Cuvée de l'an 2000 is warm and smooth enjoyed neat. Meanwhile, option #2 carried the trademark high-octane burn you get with most white rhum agricoles. A good many rum lovers enjoy that burn. Sometimes I do too. Given the choice, though, I'd pick the smooth elegance of Rhum Blanc Cuvée de l'an 2000 every time.
For me, it's the best white rhum agricole, period. This, of course, makes HSE Rhum Blanc Cuvée de l'an 2000 my new favorite rhum for Martinique's signature cocktail, the Ti' Punch.
Next time you're in Martinique, be sure to swing by Le Petibonum, ask for my friend Chef Hot Pants (His real name is Guy Ferdinand.) and enjoy a taste of HSE Rhum Blanc Cuvée de l'an 2000 with him. Knowing Guy the way I do, I'm sure he'll welcome the chance to show you what's so f***ing amazing about this rhum…
À votre santé!
Related Posts