A Seafood Treat from Nisbet Plantation: Taste of the Caribbean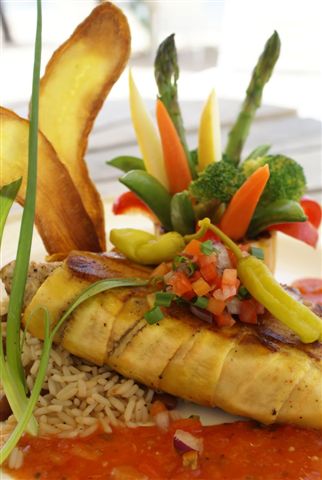 As a born and bred West Indian, it's hard for me to believe that Americans don't eat enough fish. I mean, what tastes better and is better for you than a steaming hot plate of undersea delights?
Still, it's estimated that only 20% of Americans meet the recommended two servings of fish per week.
Perhaps this recipe for Roasted Plantain Wrapped Snapper Fillet with Virgin Salsa and Tomato Coulis can help to make a change.
Sporting a mouthful of a name with a tasty flavor to match, this seafood treat is a popular favorite of guests at the exclusive Nisbet Plantation in Nevis.
Here's how you can bring a taste of Nevis home to your dining room table.
Ingredients
Snapper
2 Snapper fillers, 6 oz each
1 Lemon or lime, juiced
Fish seasoning (and brand)
Salt and pepper
1-2 Plantains, thinly sliced horizontally
Olive oil or butter
Virgin Salsa
1/2 cup Diced tomatoes
1/2 cup Sliced scallions
2 tbsp Diced red bell peppers
1/2 tbsp Chopped basil
1/2 tbsp Chopped mint leaves
1 Lemon, juiced
2 tbsp Virgin olive oil
Salt and pepper to taste
Tomato Coulis
1/2 cup Diced tomatoes
1/2 cup Diced carrots
2 tbsp Diced onions
1/2 tsp Italian herb seasoning
1/2 tsp Sugar
1 cup Water
Salt and pepper to taste
Directions:
Marinate the fish in the citrus juice, seasoning, salt and pepper for 30 minutes.  Wrap it with the sliced plantain.  Sear it in a non-stick pan on both sides until golden brown with a little olive oil or butter.  Bake it in a 350-degree oven for 10-12 minutes until done.To make salsa, combine all ingredients and season with salt and pepper to taste.
To create tomato coulis, combine all ingredients in a small pot.  Cook until nearly thickened. Puree in a blender and pour through sieve.
Serve cooked snapper atop rice and tomato coulis, top with salsa and enjoy!
For those who are more cooking-challenged (the oven is for baking, not storing sweaters!), or those who might want to compare your version of this dish to the Master's, Nisbet is offering some exceptional savings on summer packages. For details, click here.
Really, why wouldn't you want to check out Nisbet Plantation?
Renowned for its romantic colonial charm, the property is comprised of 36 elegantly appointed guest rooms and suites spread over 30 lush, seaside acres, offering an unparalleled sense of privacy and freedom.
Rooms are housed in 16 comfortable Plantation-style cottages and Lanai suites scattered throughout the property on either side of the Avenue of the Palms – a stretch of lawn from the 18th-century Great House down a two-minute walk to the beach. All guest rooms have been recently re-appointed and modernized to provide a maximum level of comfort.
We plan to check it out this summer. I hope to see you there!
Related Posts