Cruzan Black Strap Rum: How Best to Enjoy This Dark Treat
In the history of new product introductions from our legendary hometown distillery, the unveiling of Cruzan Black Strap Rum was a dud for me, and most of the tried and true Crucians in my circle of friends. This came as a shock, of course, as like all proud St. Croix natives, we're steadfast in our staunch support and unabashed bias toward our blessed Cruzan Rum.
What we didn't know – what we just could not know at the time – was that the problem wasn't the Black Strap Rum… It was us!
To understand why, one must first understand the tradition of navy rum. Our St. Croix-based mixologist friend, Jesse Card, discussed it a bit in this great piece on Grog. Accounts vary, but for the most part it seems that Grog became the drink of choice within the British Navy sometime during the mid-17oo's. From 1655, when the British seized Jamaica (and its stocks of rum) from the Spanish, 'til about 1740, the sailors' daily "tot" consisted of a pint-a-day of straight rum.
No sour (usually), no sweet, no weak – just rum… and it wasn't that good, either.
Navy rum was a far cry from the aged and sophisticated blends we enjoy today. Think black rums — rich and overly thick with molasses. It was probably a bit like drinking motor oil. Which brings me to the Cruzan Black Strap Rum of today.
As noted on the official Cruzan Rum website, Cruzan Black Strap Rum is a "cleaner, less heavy" take on the blackstrap molasses rum category. This is in keeping with Cruzan's signature five column distillation process and American oak barrel aging, a method that ensures all Cruzan Rums are light-bodied and exceptionally refined.
This brings me to the other thing one must understand to, err… understand why Black Strap was initially seen as a black-eye among my friends: our drink of choice was rum and Coke.
Actually, our only drink was rum and Coke. It's really the quintessential Crucian cocktail (much to the chagrin of our pal, Jesse), enjoyed by all generations in the Virgin Islands for ages.
Naturally, when we discovered this new Cruzan rum on the market in the 90's, we excitedly mixed it with Coke. Don't ever do this.
No greater sin had been perpetrated on our dear friend, Coca-Cola, since some idiot messed with the original formula back in the 80's. The mix was beyond un-drinkable, leaving us sad, thirsty and perplexed.
Black Strap was never intended for such pedestrian mixing, though, something I came to know a few years later…
The launch of Cruzan Black Strap Rum coincided with a mid-1990's resurgence of tiki culture and tiki cocktails in America, the kitschy Polynesian movement originally popularized in the 1930's. Carved ceramic mugs like these, lei's, flowered shirts and leis were all part of the American Tiki fun. But the most lasting imprint of the movement were a series of cocktails, led by the Mai Tai. These generally called for just the kind of flavorful touch a bit blackstrap rum can provide.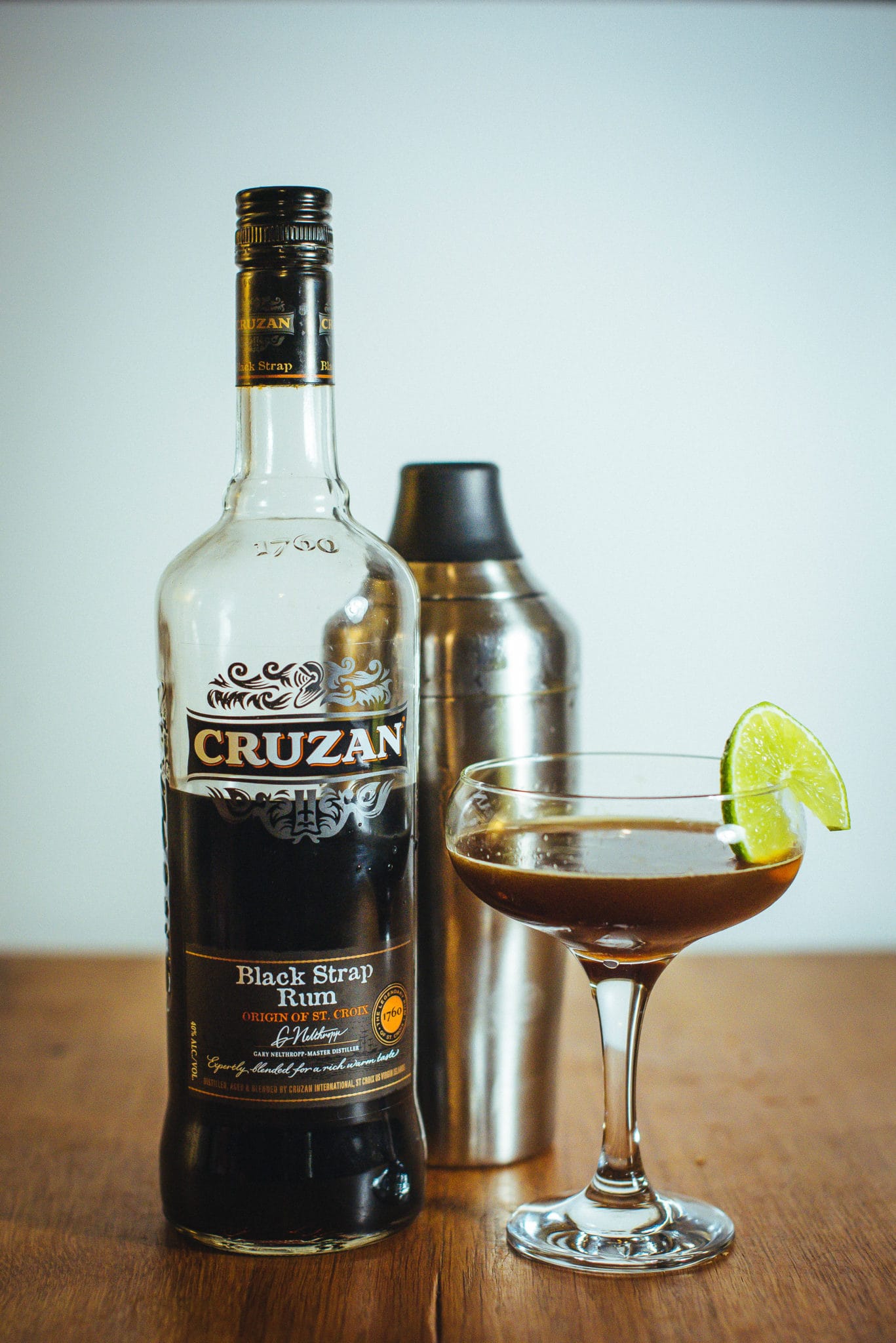 Employed as a finishing element, or float to tiki-style cocktails, Cruzan Black Strap absolutely shines. It adds an extra dimension of robustness, the rich molasses and licorice flavor adding an exotic character that's all about the tropics.
For some really incredible cocktails featuring Cruzan Black Strap Rum, check out Jesse's Rainbow Beach Swizzle or his Single Barrel Shipwreck. Or try this decidedly Crucian Painkiller. Of course, you can't go wrong with a classic Mai Tai or Colada either. And naturally it also goes great just with some ginger beer.
So, definitely give Cruzan Black Strap a try, especially if you fancy yourself a mixologist. Truly, no home bar specializing in exotic cocktails should be without it. (Right next to your bottle of Cruzan Single Barrel Rum.)
Cheers!
Related Posts