Friday Happy Hour: Single Barrel Shipwreck
Not too long ago, our friend RumShopRyan stopped by Uncommon Caribbean for a chat about two of our favorite things: women and rum. Blessed, as I am, with expertise in both, I wanted to take this opportunity to follow up with my own two cents.
Successfully courting the ladies on vacation in the Caribbean can be a difficult minefield to maneuver. Stiff competition from boys who share "similar goals", small windows of opportunity and unfortunate sunburns are just a few of the obstacles you face. But the worst mistake I see repeated all the time is guys falling victim to the glorious bounty of free-flowing booze.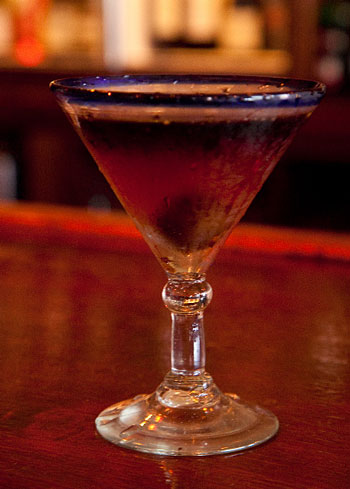 Lesson One: Don't be That Guy
Copious amounts of Jager Bombs and shots of 151 may lead you to believe that you look like a hearty man; fun, interesting, cool and refined. In reality you look just like that tool down the bar you've been making fun of all night (you know, the other one flexing for the same gaggle of girls between you). The bartender might keep serving you, but you're not impressing anyone except your equally inebriated friends. Remember, the goal is to avoid going home with them. No late-night roti will help you sober up enough to amend the mistakes of a day full of bromance shots, so have a few, but try not to force yourself to be included in every round.
Lesson Two: Chicks dig guys that drink with style
Sure, Rum & Cokes may get you through the afternoon, but when you saddle up to a good bar for dinner your drink should demonstrate that you're more than a one-dimensional party boy. You can still maintain a good buzz (which we know makes you wittier and more attractive) without slamming down the same tired throwback.
Try one of these next time, a fun play on the Manhattan with a devious Caribbean twist – introducing the Single Barrel Shipwreck.
Ingredients:
2oz Cruzan Single Barrel Estate Rum
1oz Carpano Antica Vermouth
1 barspoon Hibiscus bitters
Cruzan Blackstrap Flotsam
Combine Cruzan Single Barrel Estate Rum, Carpano and Hibiscus bitters over ice. Stir for 30 seconds and strain into a chilled Martini glass. Float Cruzan Blackstrap on top.
Now, dignified drink in hand, you're ready for the big leagues.
Lesson Three: Remember Lesson One
Here you are with a nice cocktail in hand, looking dashing and adventurous, so just sip that sucker! This isn't a race, slow down and take your time. Hopefully, there is a long night ahead of you.
Remember, your Single Barrel Shipwreck has the same amount of booze as TWO Rum & Cokes. Don't chug this guy and turn into That Guy.
Cheers!
Related Posts