Dad's Curry Shrimp Recipe – My First Attempt at Cooking Up a Pot of Love
I can remember when my parents were in love. It was obvious to anyone who happened by our kitchen when Mom was cooking and Dad was off work. Mom was an excellent cook. She made everything from scratch, and almost always without the aid of any cookbooks. The smells were absolutely intoxicating. So much so that they routinely caused Dad to click on the transistor radio above our refrigerator and distract Mom with a sweet bit of hug up dancing. Sweet soca and savory spices intermingled within our cozy kitchen much the same way as their bodies melded and moved together. It was as sure a sign of true love as I've ever seen… True love that endures to this day in my Dad's curry shrimp.
Indeed, my Mom was the unquestioned head chef of our family. Dear old Dad, though, was no kitchen slouch either.
Or, at least he grew into the role.
Before Mom passed away, I never saw my Dad do much in the kitchen beyond dancing, or boiling the occasional egg. Afterwards, though, he stepped up big time, learning to make some of Mom's tried and true dishes, while also adding in a few new ones of his own.
The very best of Dad's meals was/is his curry shrimp.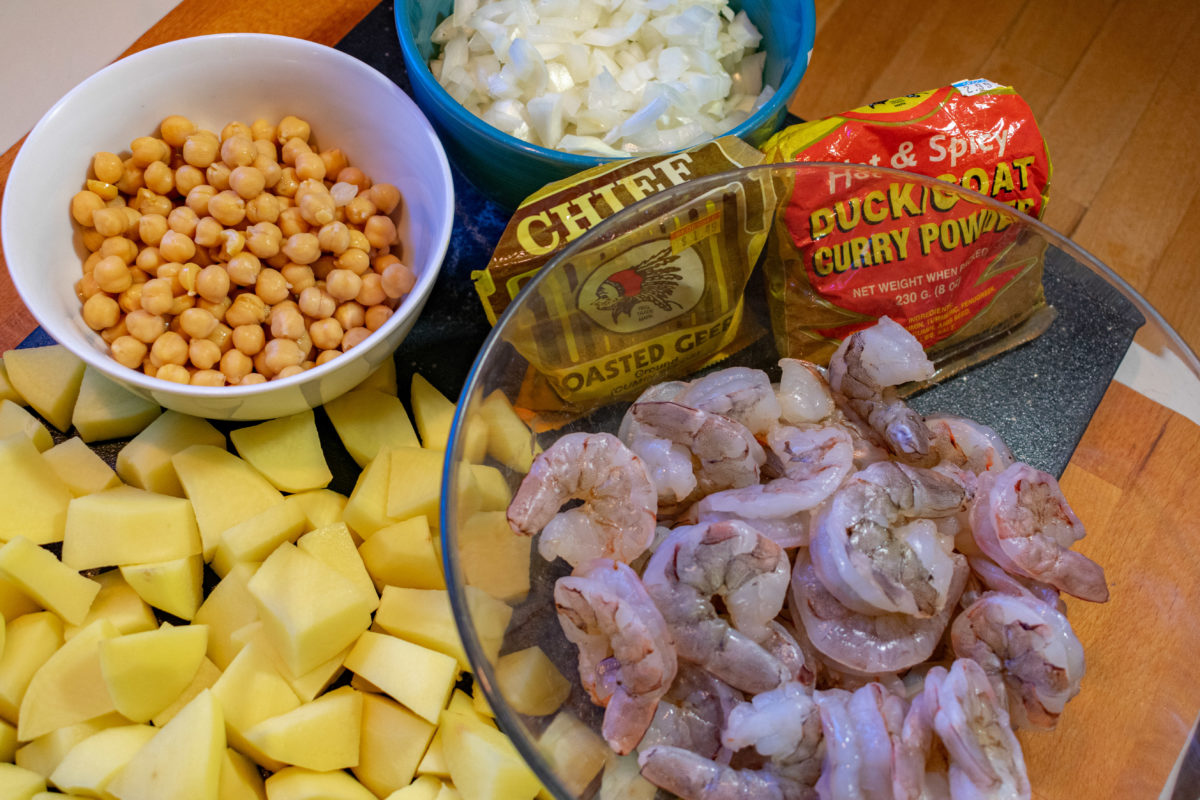 Love in Every Bite
It's spicy and savory, of course. (No dish could ever contain enough hot pepper to satisfy Dad's tastes.) Dad's curry shrimp is also ridiculously delicious.
The best thing about it, though, is the love that's so obviously cooked into every bite.
Ingredients:
2 Pounds Shelled Raw Shrimp
1 Scotch Bonnet Pepper Chopped Fine, Fine, Fine
2 Tablespoons Cooking Oil
1/2 Cup Water
2 Cloves Minced Garlic
2 Cups Chopped Potatoes
1.5 Cups Diced Onions
2 Tablespoons Hot & Spicy Duck/Goat Curry Powder
1 Can of Chickpeas (15.5 ounces)
1.5 Teaspoons Ground Roasted Geera
Salt and Pepper to Taste
1.5 Teaspoons Garam Massala
It's not lost on me that my Dad didn't have to learn how to cook. His life could've been made much easier by shipping teenage me and my younger brother away to live with extended family back in Trinidad. Worse still, he could've "treated" us to the many various junk food options on offer in Saint Croix. TV dinners and other processed food were also at his disposal.
To his credit, though, he took the tougher route. It's what Mom would've wanted; what their love demanded.
Recently, I took a stab at carrying that love forward by making my Dad's curry shrimp for my wife and kids. This first attempt was nowhere near the quality of his, I'm afraid; a nod to the subtle nuances hidden in every West Indian family recipe.
The wife and kids loved it, though, so I'm definitely going to keep trying. Hopefully someday they'll pick up on the generations of love meant for every bite.
How To Make My Dad's Curry Shrimp
As my Dad likes to say, before you start cooking any West Indian anything, get a kettle of hot water started. Before too long, you'll always need boiling water.
Step 2: Sautée your onions, garlic, and Scotch bonnet in the two tablespoons of cooking oil over medium-high heat. You'll know you're ready for step 3 once your onions are soft and take on a golden hue.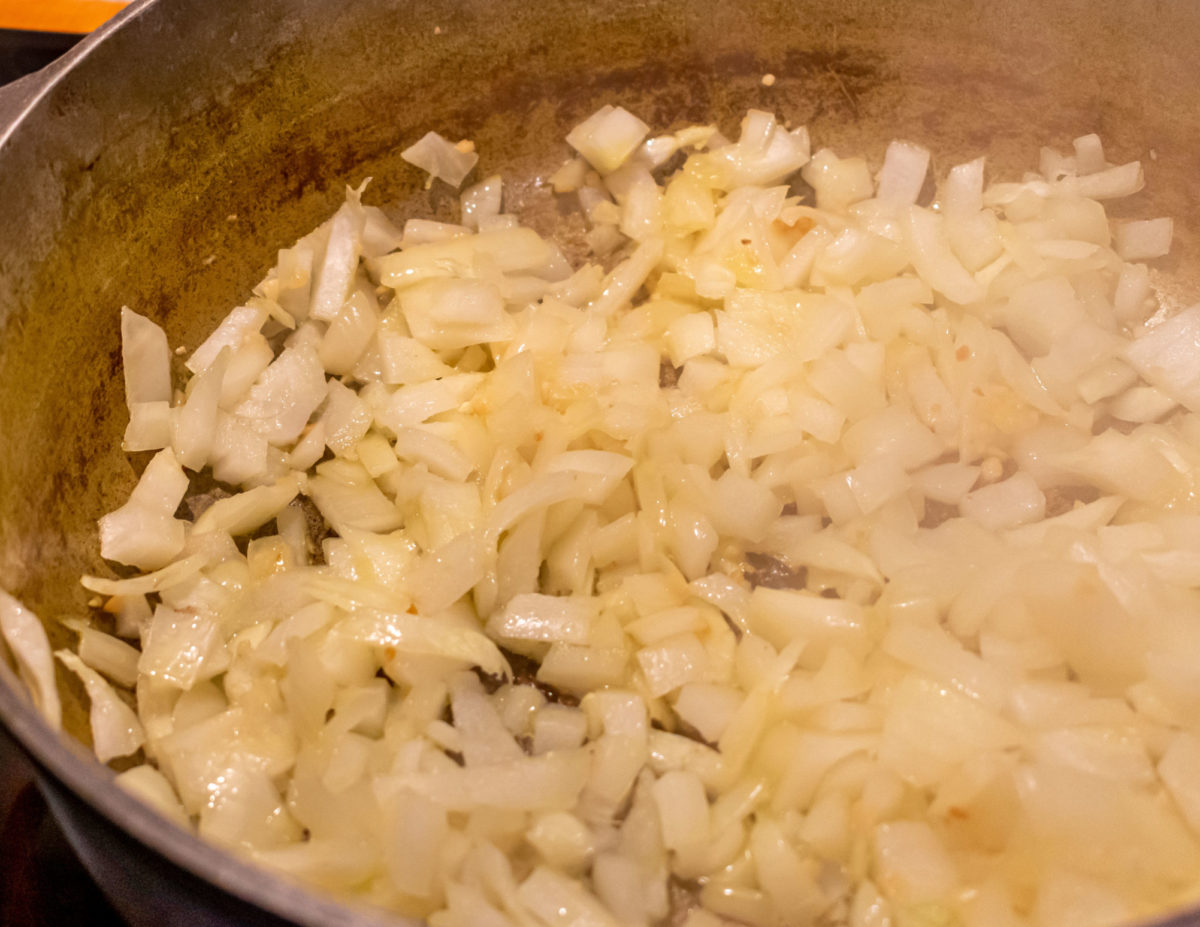 Next, mix your Hot & Spicy Duck/Goat Curry Powder with your half-cup of water and pour it over your Scotch bonnet/onion/garlic. Mix it in nice, then dump in the potatoes.
Once your potatoes "take on the curry," cover them with that boiling water from your kettle. Season with your Ground Roasted Geera and let that cook down for a good 15-20 minutes. You're ready for the next step once your potatoes are soft and much of your hot water has boiled off.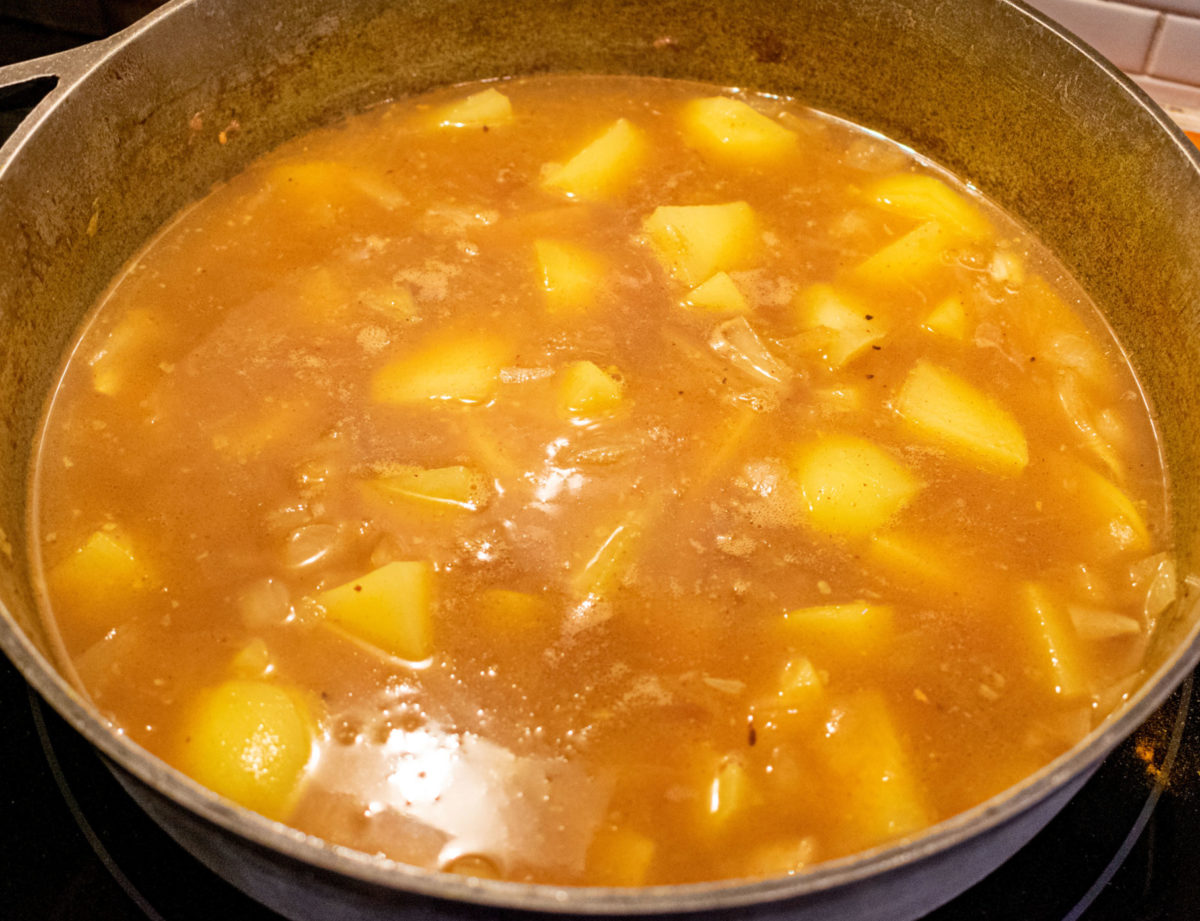 Tip: Crush a few of your softened potatoes with your cooking spoon along the sides of your pot and mix 'em back into the broth. This thickens the sauce, which will make your curry shrimp more ideal for folding into a Dhalpuri roti. I didn't know to do this on my first attempt, but have had GREAT success with this technique in subsequent tries.
Okay, now that your potatoes are soft, it's time to add your chickpeas and shrimp. Dump 'em all in your pot, add your Garam Massala and salt/pepper, stir it up, and cover. Let your mix cook for about five minutes more, stirring frequently.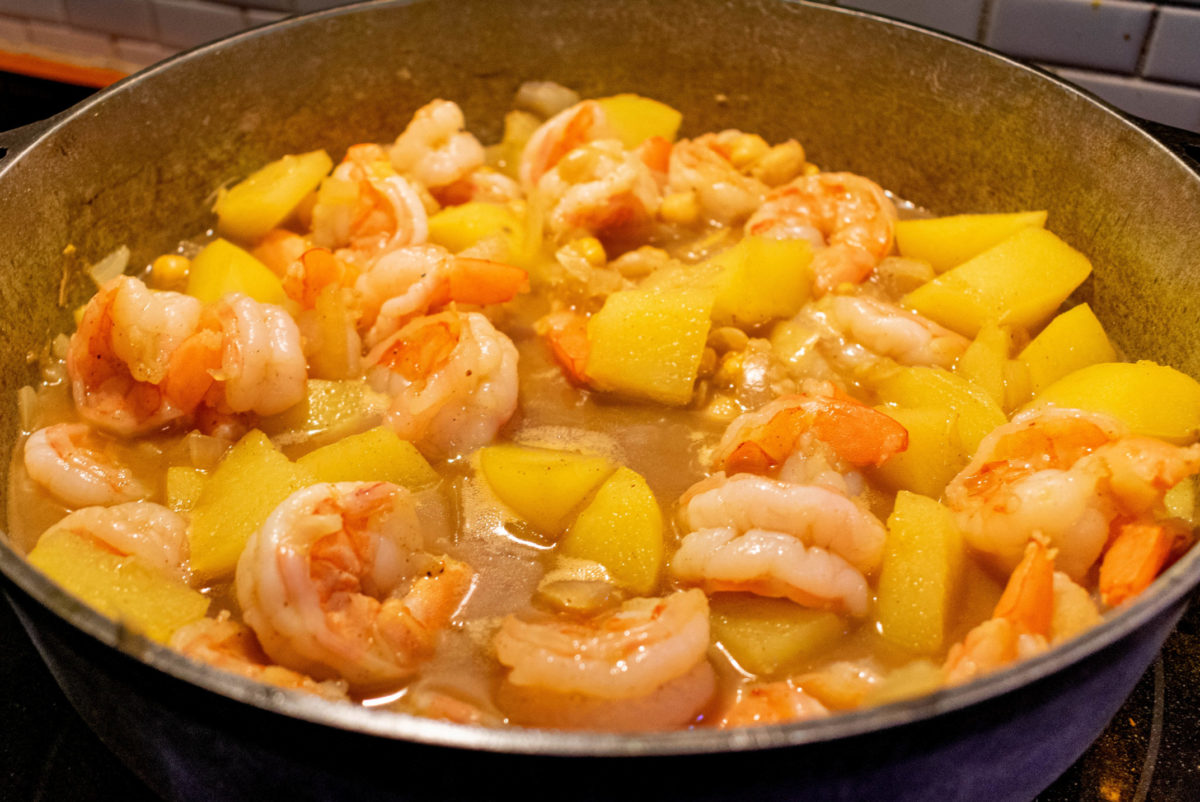 The result, as my Dad likes to say, is…
Perfect curry shrimp.
My Curry Shrimp Needs Work
Now, as noted above, my curry shrimp does not hold a candle to my Dad's. The consistency was lacking in this first batch. It was still good, but overall I found it to be a little too thin and could've even used a bit more fire.
I plan to pick my Dad's brain to see what subtle details he may have left out when relating this recipe to me initially. In the meantime, give the recipe a try and let me know if you have any pointers I can use to improve upon my Dad's perfection.
Bon appétit!
Related Posts