The Island Baby Fashions of ESPjr: Uncommon Buy
We are on a mission to engage and encourage people to appreciate the Caribbean's diverse environment, festivals, culture, sounds, and tastes.
No, that mission statement wasn't written by Steve and I back when we launched Uncommon Caribbean, though it definitely could have been. Instead, it comes by way of our aspirational soul mates, the mother and daughter team that make up ESPjr — with the "ESP" standing for "Everything Slight Pepper," of course.
Committed to telling Caribbean stories
I loved growing up in the Caribbean. I loved everything about it. Now, as I find myself raising two young boys in the heart of big, noisy, filthy, and fantastic New York City, I lament the fact that they're missing out on so much of what made my formative years so special. The animals, plants, foods, drinks, kitchens, and customs that, while unique to each island, collectively play such an important role in the lives of children throughout the region.
Creating opportunities to immerse my children in the West Indian way of life as much as possible is definitely one of my personal driving forces behind Uncommon Caribbean, but we can't always be galavanting through the islands. (Though I try!)
So, when we're home, as much as possible, I try to keep the islands in our hearts. It could be by undertaking weekend jaunts to Brooklyn roti shops, or spending mornings frying up bake at home with a side of buljol, or even just jamming to my son Trinidad's favorite Machel Montano song first thing in the morning. (It just had to be Bottle of Rum!)
This commitment to keeping the Caribbean in my kids even when they're not in the Caribbean is what immediately drew me to ESPjr and their story.
The Caribbean is home to some of the sweetest treasures in the world.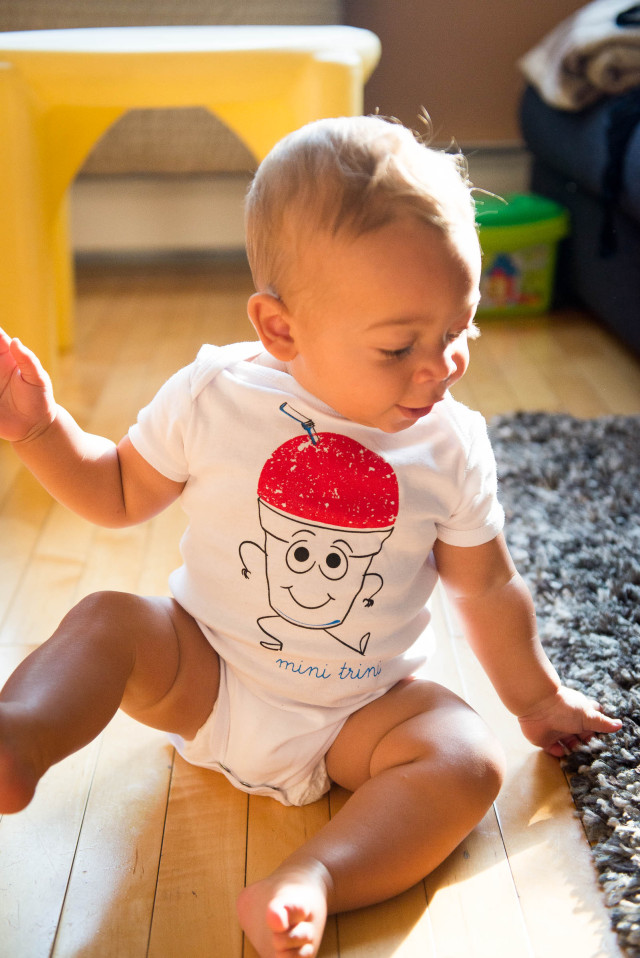 It started for me with the onesie and t-shirt designs of their "Island Babies" debut collection. I distinctly remember thinking these cute little products were amazing the moment I came across them. Here were beautifully produced images of happy coconuts soaking in the sun, blue crabs prancing about, fun and fruity snow cones doing a little jig, plus little leatherback turtles scooting toward an unseen sea — all chosen not just for their adorableness (though they are adorable), but also to immerse children in our distinct culture and heritage.
In fact, it was to raise awareness of Trinidad and Tobago's critical role in supporting the population of leatherback sea turtles that ESPjr was originally launched in 2011. Did you know that TnT hosts one of the largest leatherback turtle nesting populations worldwide, with more than 6,000 of these endangered denizens of the sea visiting its shores annually? Now you do, and so do so many of the next generation of environmentally conscious Caribbean loving children.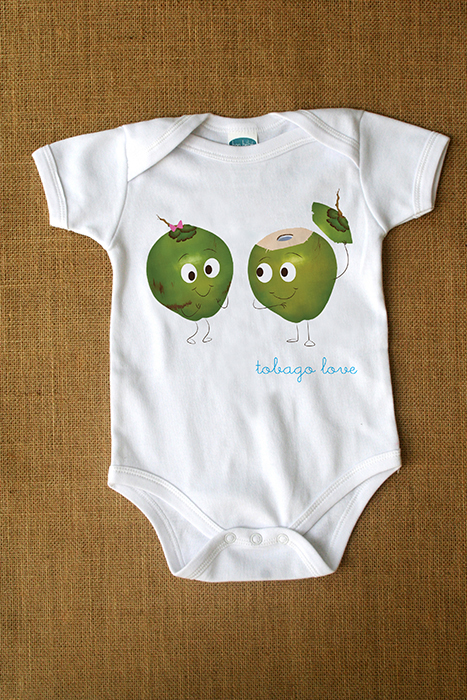 Since then, ESPjr has added the other characters I've mentioned, all with a focus on their cultural relevance.
They've also branched out with the launch of a new website at espjrisland.com with the intention of it being an online playground where parents can download and share activities with their kids. Coloring, spelling games, crafts, and galleries, all of it carrying a distinctly island twist, can all be enjoyed here.
If you have a little Caribbean traveler in your life, you should definitely check out ESPjr for fun island fashions and activities. You can shop from the comfort of your home at their online store, or for the best experience, visit their home base of Trinidad and Tobago where ESPjr gear is in stock at a number of local retailers from Port-of-Spain to Mount Pleasant in Tobago. Get the details here.
Happy island vibes
Once again the ESPjr site sums it up best:
Sunshiny smiles, salty kisses, and sandy toes–they're all here at ESPjr, where children have a space to play and learn.
Related Posts