Unpacking Anguilla – November 2019
Editor's note: A few weeks ago, I completed my first trip back to Anguilla in seven years. The extended weekend visit was part of a group press trip organized by the Anguilla Tourist Board. As such, my itinerary was a tad more structured than I'm used to. That's not to say it wasn't fun, of course. After all, we're talking about Anguilla! Here's a quick rundown…
Post-Trip Mood
Smitten. As with my previous visit seven years prior, Anguilla captured my heart. A lot had changed, of course. Time, tides, and hurricanes will do that. Some old haunts, like Pear's Bar, Pumphouse, and Smokey's, were gone. Many more, though, were revamped and better than ever. An expanded Dune Preserve was positively rocking on the Friday evening we happened by. Elvis' Beach Bar also still exudes the same intoxicating irie vibe (and Crucian Mamajuanna) I came to love long ago. The view from Uncle Ernie's, as you can see above, is still plenty sweet too.
The Good
A notch or two above sweet in Anguilla: the beaches and guest accommodations. Shoal Bay, Sandy Ground, Little Bay, Crocus, Rendezvous Bay, Meads Bay. I only had three full days in Anguilla, yet somehow I visited and reveled in each of these legendary shores. As an added bonus, I even got over to Prickly Pear for the first time ever! The pristine private island seclusion here is simply out of this world.
On the accommodations front, I was fortunate enough to sample two options: the elegant Spyglass Hill Villa and the popular Shoal Bay Villas. The combination offered the best of both worlds; Spyglass holding down the haut monde side of things, while SBV spoiled me with its ideal location right on the sands of its namesake beach. To be sure, I loved them both for very different reasons that I can't wait to share in future hotel review posts.
The Bad
I've no doubt I also would've loved The Strip. The decidedly local attraction consists of a collection of makeshift bars, food trucks, and eateries in The Valley, Anguilla's capital. For real West Indian fare and feting in Anguilla, this is apparently THE HOT SPOT! Sadly, though, I never made it over there during my trip. This counts as a HUGE miss in my mind, and reason #1 for me to return to Anguilla ASAP.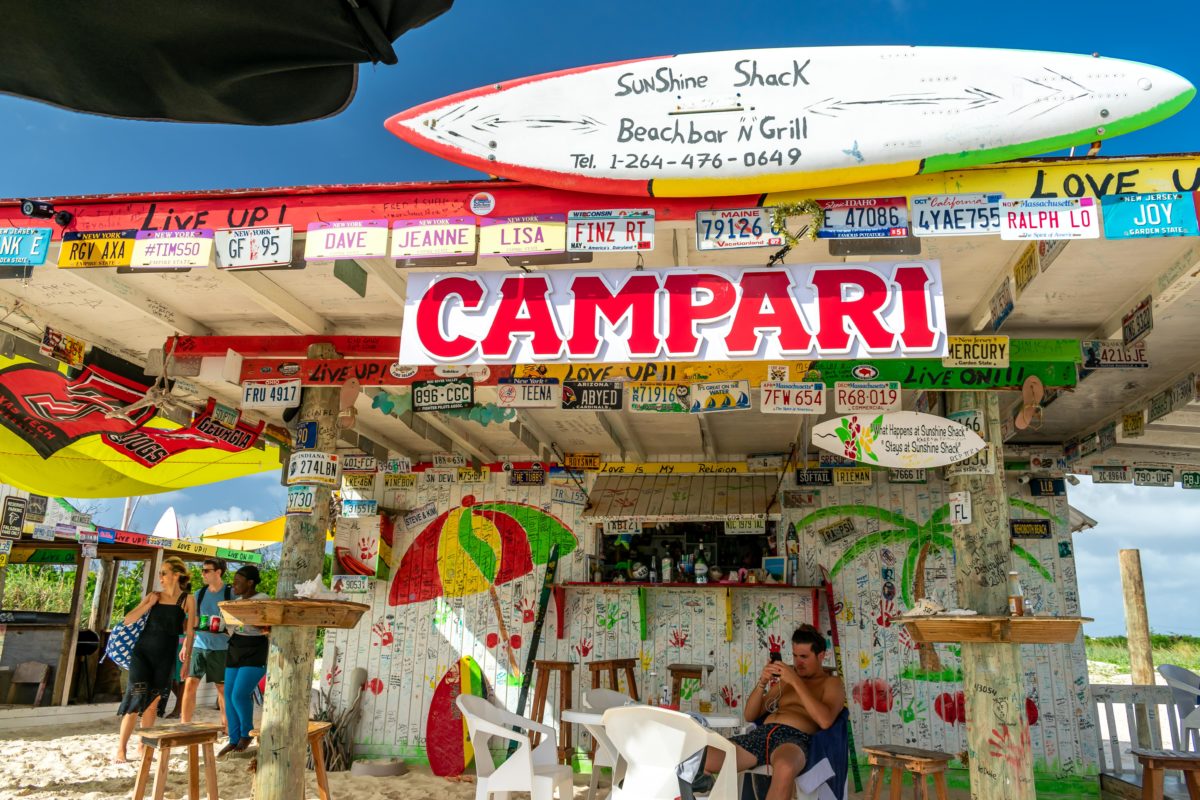 The Great
Lobster lunch at Garvey's SunShine Shack. Sampling all kinds of amazing rums inside the Rhum Room at Zemi Beach House. Meeting Anguilla's favorite yogi out at Prickly Pear. Watching the legendary Bankie Banx perform onstage at the Dune Preserve with his son, Omari.
Truly, this latest visit to Anguilla was way beyond special in so many ways. I'll have a lot more to say about all of this in a new series of Anguilla posts coming soon…
Related Posts