Lobster Alive Barbados: The Best Spot for Barbados Lobster
Lobster Alive fills a gap in the general awesomeness that is Barbados. And in doing so, it becomes the defacto best spot for lobster anywhere on the island.
A Lack of Lobster
There are several nice advantages to life in Barbados born of the island's unique geographic position a good 100 miles further east into the Atlantic than the rest of its Caribbean neighbors. World-class surfing conditions and amazing seaside natural wonders artfully carved by the ever-pounding Atlantic are two of my favorites. Of course, where there are pluses, there are also minuses. And for lovers of shellfish Barbados has a big one: no lobster.
Okay, I shouldn't say "no lobster" as there's bound to be at least a small number hanging around the coral reefs that ring the island. There's also this rare creature some consider to be a lobster, but really it's not.
The truth is, the waters surrounding the island are too deep to support lobsters in large enough quantities to meet the tastes and demands of locals and visitors. Well, at least that's what I was told back in February when Patrick and I stumbled across the very best place to enjoy fresh lobster in Barbados: Lobster Alive.
Lobster Alive Restaurant
Located in the sand, directly on Carlisle Bay just south of Bridgetown, Lobster Alive Barbados espouses a humble beach shack motif  that flies in the face of its upscale dining treasures. Inside and outside seating areas are cooled solely by sea breezes, while tables and chairs are a mix of wicker and plastic. Daphne's or The Cliff it is not, at least when it comes to ambiance. When it comes to fresh lobster, though, Lobster Alive cannot be beat.
Lobster's Incoming!
The secret to the restaurant's success is its owner, Art Taylor, an Australian with an airplane who realized long ago that the best way to get fresh lobster in Barbados was to go off-island and get it himself. Each week, he flies twice to Bequia in the Grenadines and loads his small single-engine Cherokee airplane with a good 700 pounds of the spiny treats. All of it ends up in a massive holding tank located inside the restaurant. In season, it's not uncommon to have upwards of 3,000 live lobsters splashing around on-site, providing a nice little show for those dining inside.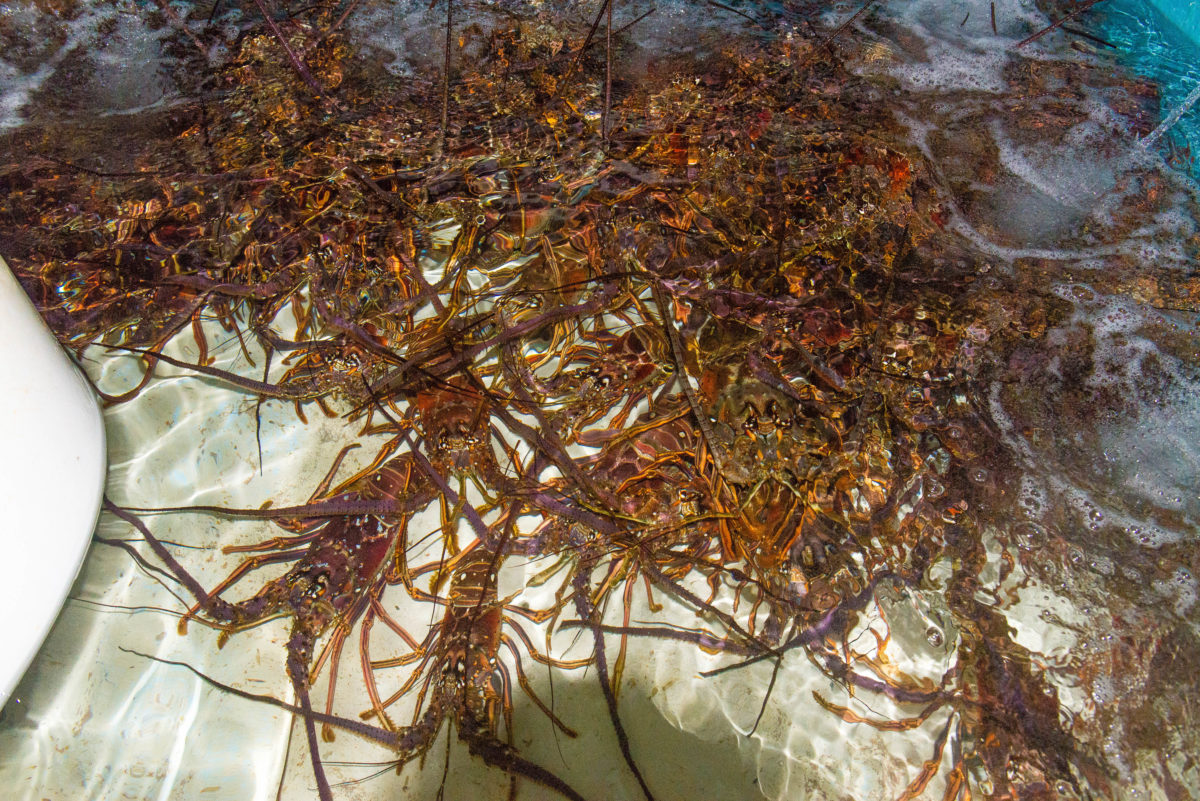 Lobster Alive actually began as a wholesale distributor providing lobster for Barbados' restaurants, hotels and local consumers. It's a role the restaurant still plays today, to the delight of anyone enjoying a taste of Caribbean lobster anywhere on the island. Just like the fish available at Zeerover in Aruba, though, the freshest lobster in Barbados can only be eaten right here.
Simon, one of the staff at Lobster Alive who you see here holding up one of the massive creatures available for your dining pleasure, told me that the best days for the freshest lobster are Mondays and Thurdays, as that's typically when new shipments come in. The five-pound beast he's holding here feeds three adults and was selling for about US$165 when we were there.
Lobster Alive is open everyday from 12 to 9pm during lobster season. If you're planning on dinner, reservations are HIGHLY recommended. During the day, the atmosphere is more casual. They'll even rent you lounge chairs and umbrellas to enjoy a nap on the beach after your filling lunch. On Sundays, there's even live jazz from noon to 4pm.
For more information, visit the Lobster Alive website, or call them at Tel: (246) 435-0305.
Related Posts