Whaleboner Bar, Bequia: Uncommon Attraction
Lots of things can make a Caribbean bar uncommon – graffiti and trash, distinctively destructive signature drinks, singular locations, animated owners, even more animated animals, colorful traditions… The list goes on and on, of course, though rarely includes the odd decor from which the bar above derives its name.
The bar is called The Whaleboner. The odd decor: actual whale bones.
Towering jaw bones arch over the entryway. Vertebrae from a giant 75-foot humpback caught in 1995 serve as barstools. Lining the face of the bar's two sections, more immense jaw bones.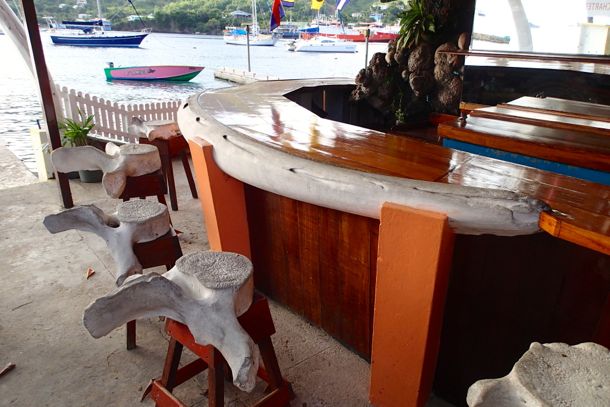 With as staunchly protected as whales are today, it might be surprising to some to find such outward signs of their killing in a bar like this. The Whaleboner, however, is located in Bequia, a small corner of the Caribbean with a rather large whaling history. The tradition plays so prominently in the island's history, in fact, that Bequia is still one of the few places in the world where whaling is permitted, albeit on a very limited basis, by the International Whaling Commission.
The bar's history dates back more than 50 years and spans two locations. The first, set further up "in town" (Port Elizabeth) was started by Thomas Johnson, the same eccentric former NYC advertising exec who developed the imminently uncommon Moonhole community on Bequia back in the 1960's. The current owners moved everything to the heart of the scenic Belmont Walkway in 1980 after first acquiring the bar in 1973.
Now, just in case you're wondering if whale is ever on the menu here, don't. It isn't. That doesn't mean, though, that you can't get a taste of it here…from time to time. As the current owner explained to me:
Sometimes you go out to catch a whale… sometimes you catch and sometimes you don't. Say for argument's sake they do catch a whale – we might put some on de grill to let people taste. It's really a delicacy.
Whale Season in Bequia runs from January to April, though they weren't serving food of any kind when I stopped in at The Whaleboner on a warm mid-summer afternoon last year. The stiff rum punch, exceptional view of Admiralty Bay, and uncommon surroundings made for a memorable visit nonetheless.
Related Posts