Guinness Punch: Friday Happy Hour Keeping Secrets in Grenada
We're not at all good at keeping secrets here at Uncommon Caribbean. It's, you know, our thing to share our home region's best little-known treasures with you, the better to make your future travel adventures.
In the case of this very special place that I recently stumbled across in Grenada, though, I'm still not quite ready to spill the beans…
It's just so precious, hidden, and amazing that I'm compelled to hold on to her secrets a wee bit longer.
So, instead of the place, let's talk about what you should drink if you're lucky enough to find it: Guinness Punch.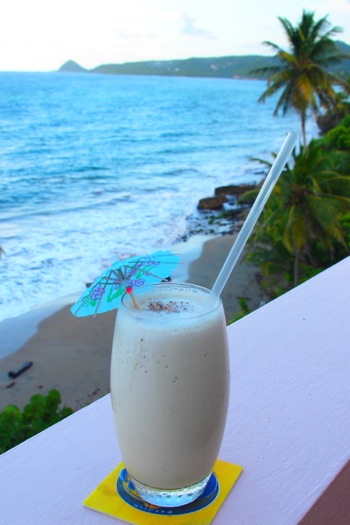 Davis, the bartender seen above, created the concoction to appeal to the property's large Irish and British clientele.
I'm sure, though, that other West Indians like me will like it too, as it carries a passing resemblance in taste and consistency to Sea Moss. An even closer cousin, Jamaica's Dragon Stout Punch, is made in very much the same way. (See recipe here.)
Davis sets his punch apart, though, with a kick of Tia Maria and some local Grenadian elements emblematic of the island's spicy side. Here's how you make it…
Take one can of Guinness and combine it in your pitcher with one ounce of condensed milk, a tip of nutmeg syrup or pure nutmeg, three dashes of Angostura Bitters, a half-ounce of Tia Maria and some crushed ice. Now blend away 'til your mix is nice and smooth. Pour and sprinkle a bit more nutmeg on top. That's it!
This recipe will produce two or three Guinness Punches, enough to make me give up the goods on this special place!
Too bad I gave up beer for Lent, though. I guess you'll have to wait a little longer to learn about this Shangri-La…
Cheers!
Related Posts