Caribbean Wallpaper Wednesday: Giving Thanks for the Tobago Cays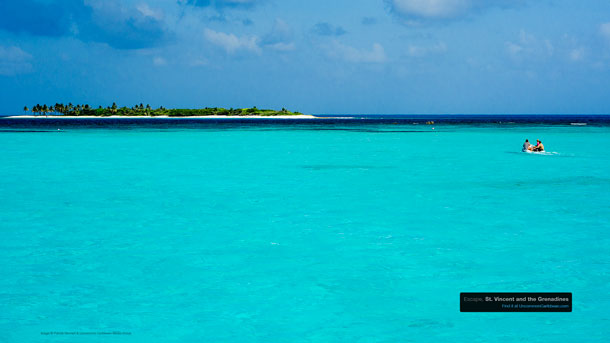 The list of Caribbean travel experiences I'm thankful for is a long one. Still, it must be no surprise by looking at this week's desktop wallpaper that my few fleeting days spent in the Tobago Cays are near the top of that list.
Growing up in St. Croix. Climbing Pico Duarte in the Dominican Republic. Padding along black sand beaches on Montserrat. Learning to surf just off Barbados. Baring it all on Orient Beach, St. Martin or just limin' on my dad's veranda on Tobago. These are all marvelous memories, but there's something extra special about the Tobago Cays that truly settles in your soul. That reminds you of how gorgeous the world is away from the hustle and bustle of everyday life. That you're… Well… Extra thankful for.
Longtime readers will know I've been raving about this otherworldly archipelago for the past year and a half since visiting the small clutch of islands on a sailing trip through the Grenadines.
What can I say? I'm thankful for the impossibly clear waters teaming with all manner of tropical fish and sea turtles. I'm thankful for the little beaches lining the five little islets. I'm thankful for all the red-footed tortoises lumbering through the underbrush and the iguanas lounging on lithe tree limbs. I'm thankful for the sea birds that like to circle over head.
Hell, I'd be thankful just to know that places like this exist and are fairly easy to visit.
And I hope you'll be thankful for this week's beautiful, blue desktop wallpaper. I captured the image just as some intrepid explorers were attempting to leave the shallow, still waters of the lagoon, cross a treacherous stretch of reef, then brave the powerful currents of the deep waters surrounding Petit Tabac! (Some people just can't be thankful with that they have, eh?)
Anyway, just click below to download the wallpaper, then tell us what Caribbean destinations you're thankful for!
Related Posts