Caribbean Wallpaper Wednesday: Memories of Kite Surfing at Sunset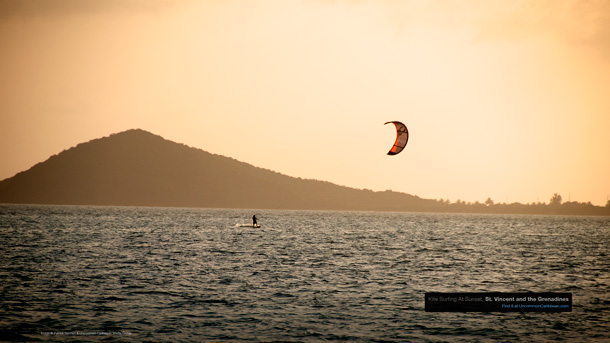 Phew, what a month!
Of course, the big action around here was our thrilling giveaway. Who knew we'd gain so many new fans on Facebook all hoping to claim the prize in our Martinique Magnifique giveaway? We hope all of you new folks enjoy our unique perspective on our favorite region… And don't worry, we'll have more giveaways in the future! Once again, congratulations to Aubrey Hartline!
Also this month, Steve and I hung out together more than ever since kicking off this wild endeavor to explore all the most interesting and authentic aspects of the West Indies. If you were one of the fans who came out to the last-minute meetup in New York City earlier this month… Thanks! It was great swapping stories and drinking rum with all of you at Lani Kai in Soho. We'll definitely get everyone together again sometime in the near future!
And speaking of drinking rum, I can assure you that the bottles we've posted to Facebook here and here have almost all been mercilessly drained of their delicious contents. (It is our job, right!?) Look for our favorites to make appearances in our Rums We Drink photo gallery on Facebook.
If that wasn't enough, Steve even managed to make it to the unveiling of the new Mount Gay Eclipse Black Rum at a swanky launch event in Miami!
Yeah, it's been a busy month… and that's on top of our already hectic schedule of posting new content every. single. day!
It's for all those reasons (and many more), that I chose the image above for this week's Caribbean Wallpaper of the Week.
I captured this photo as we relaxed after another spectacular day on our boat Trust Me, chartered through our friends at Sail Oasis for our recent sailing adventure in the Grenadines. I had a glass of El Dorado rum in one hand and my camera in the other, our littlest sailor had already gone to sleep, and this very talented kitesurfer captured my lazy mind as he slid along the crystal clear waters—weaving his way between the other boats lucky enough to be spending the night in the Tobago Cays. The sun was slowly dipping into the Caribbean, painting the sky with a soothing orange light… And I couldn't have been more relaxed.
As the sun sets on perhaps our busiest month yet here at Uncommon Caribbean, I'm hoping this visual will transport me back to that pristine frame of mind I enjoyed while lazily following this guy with my gaze (and camera) along the softly glowing horizon.
I can only hope it has a similar affect for you. Download, grab a rum, kick back and enjoy.
Related Posts