Sandy Island Anguilla: The Best Lobster I've Ever Had
Doubt and anxiety. These were the prevailing sentiments expressed by several of my traveling companions upon catching the first glimpse of Sandy Island Anguilla.
We're going where? Oh no, that's not going to work for me.
From the incredible Sea Villa, which we happened to be touring at the time, the island is barely discernible. Sandy Island is a small thin line of sand skirting atop the sea with a scant few puny palm trees.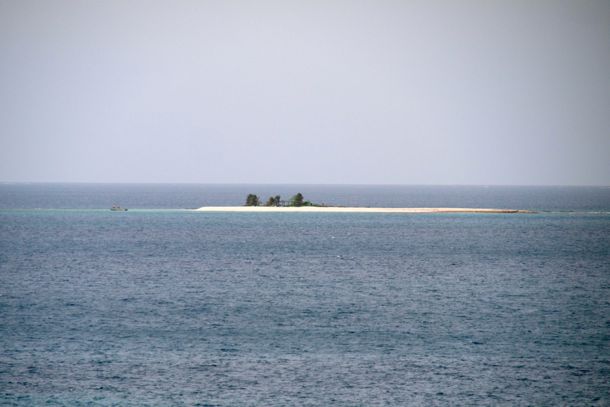 We were heading there for a midday beach BBQ. The apparent lack of shade, though, had some in our group feeling like we were the ones about to get cooked.
No one backed out in the end, which turned out to be a very wise decision. Especially for those of us who love lobster!
Getting to Sandy Island Anguilla
Located a quick boat ride (about five minutes) from Sandy Ground, Sandy Island bears resemblance to every deserted tropical island you've ever seen in movies… at least from a distance. As you get closer, the island's small collection of structures comes into view…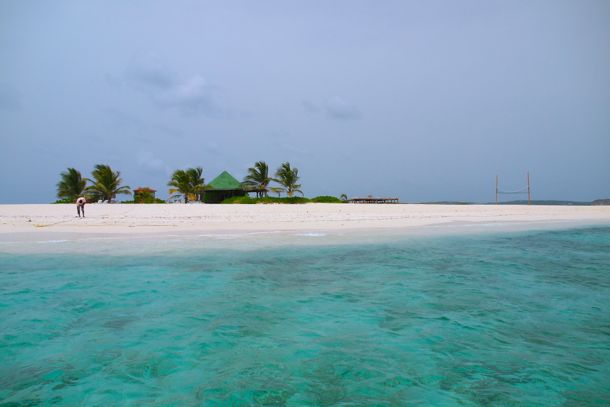 It's not until you get ashore, though, that you get a real sense of the facilities. You'd never know it from a distance, but this little beach bar islet is actually comfy and accommodating.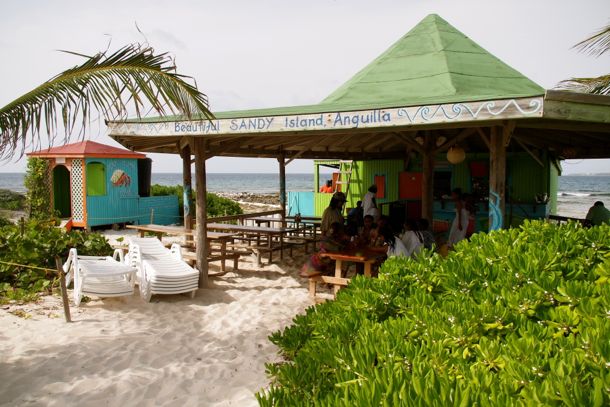 Private/Public Partnership With Nature
Sandy Island (the tiny island itself) is owned by the Government of Anguilla. The beach bar/BBQ located on Sandy Island is leased to a private operator.
The whole place runs on wind and solar power. Everything that needs to be cooked is prepared on a good-sized outdoor grill right next to the sea.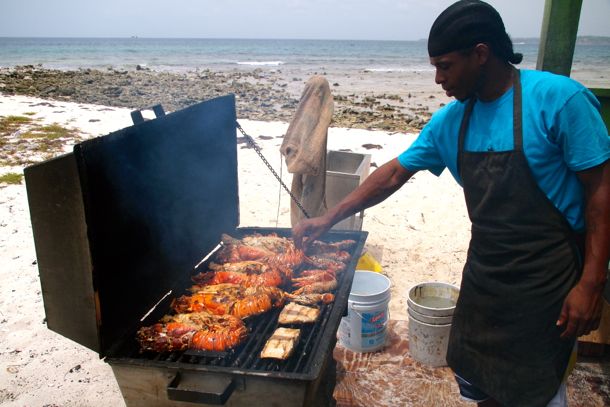 The place has been around for umpteen years.
So says Dion, the local bartender whom I met at Sandy Island Anguilla. He'd been working there for two years, arriving every day at 9:30 am and leaving with the last day trip patrons, usually around sunset. This after plying them with an assortment of beers, rum punches, and other cocktails. Among the nice selection of rums gracing Sandy Island shelves were Cruzan Rum, Appleton, Mount Gay, Barbancourt, and even Rhum Bologne from Guadeloupe.
Nothing Required
On Sandy Island Anguilla, though, no drinks are required to mellow out. The peaceful quiet and tranquility here are more than enough to melt any stress away.
The roots reggae classics being played under the pavilion weren't really required either. As it says right on the restrooms:
Live natural music daily by the seagulls, wind and waves band.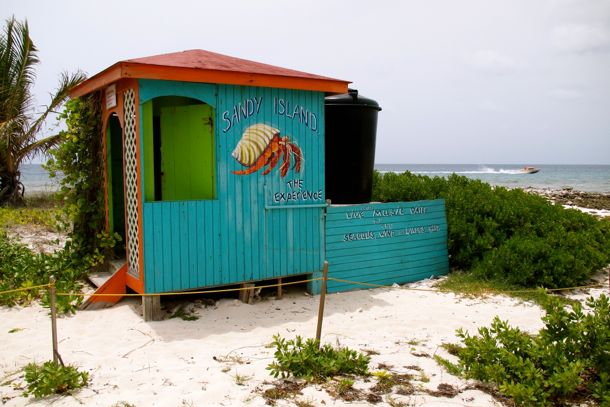 All the relaxing and rustic private island wonder at Sandy Island is to be expected. What I didn't expect, though, was this…
Sandy Island Anguilla Lobster Feast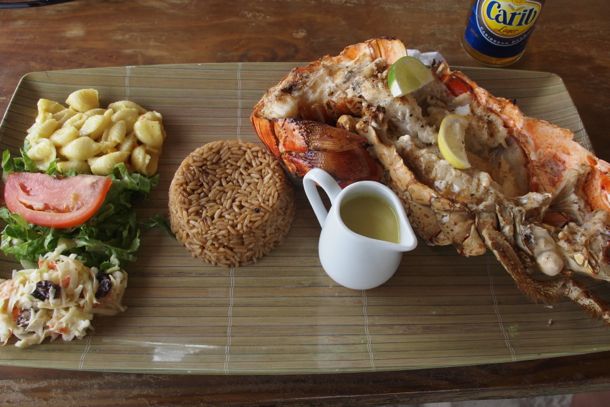 This is the Grilled Lobster-Sandy Island Style platter. Fresh-caught, grilled, and drizzled with garlic and lemon cream sauce, it's the best lobster I've ever had in my life.
It's a bold statement, sure. One no doubt influenced by my sublime surroundings, that nice rum selection, and wonderful company. I'm sticking by it, though.
I mean, I literally said as much immediately upon my first bite. And it wasn't one of those doubtful, questioning statements, either. You know, like: "I think this might be the best lobster I've ever had…"
No, my mouth was resolute with the words well before my brain even knew what was going on. It was almost as if my taste buds were doing all the talking while the luscious lobster lulled the rest of me into a blissful culinary coma from which I'd never want to awake.
Post-Lunch Private-Island Lounging
A post-lunch nap is a very good idea at Sandy Island Anguilla. Thankfully, there are lounge chairs and plenty of powder-soft white sand to accommodate you…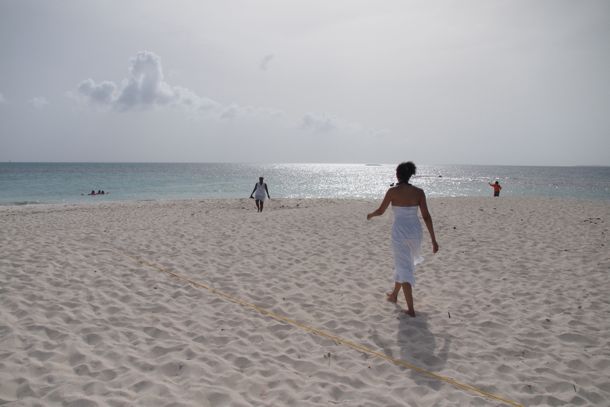 They say there's great snorkeling all around Sandy Island. They say they serve various other culinary delights as well. Ribs, steaks, BBQ chicken, crayfish, snapper… I was so enraptured by my lobster and the beach, though, that I didn't get a sense of any of those other charms.
All good reasons to make a return visit soon…as if I needed the extra motivation.
Sandy Island Anguilla – If You Go
Sandy Island Anguilla is open daily between November 1 and July 31. Make a reservation anytime between August 1 and October 31, though, and they'll be happy to open up just for you. If you want to have a private party there at night, you can book that as well.
To get there, catch the Sandy Island sea shuttle (aptly named Bliss) from the small pier in front of Johnno's Beach Bar at Sandy Ground. The ferry costs just US$10 per person round trip. A small price to pay to reach such a priceless destination with some of the best fresh seafood I've ever had.
Related Posts