Flying Fish Cutters: The Officially Bajan Sandwich Worth Fighting For
My brother Steve has lamented time and time again about how hard it is to get a great roti in Barbados — an island so close to the dish's Trinidad and Tobago roots. Now should you be so lucky as to find yourself in Barbados, you might want to save yourself his headache by following an old adage instead:
When in Rome, do as the Romans do!
In the case of Barbados, "doing as the Romans do" means trading in dhalpuri skins and curried goat for fresh, fried flying fish cutters (sandwiches) stuffed in fluffy Bajan salt bread. After all, flying fish are the official finny friends of Barbados! They appear on everything from coins to sculptures that greet visitors at the airport, to the Barbados Tourism Authority's own logo.
So, to say that flying fish are a big part of the cultural identity of the island is a bit of an understatement.
But that esteemed place was in serious jeopardy at one time. You see, through some short-sighted coastal developments that damaged the Bajan reefs flying fish loved to visit (that Freight's Bay became an awesome surf spot is a small conciliation) and some equally short-sighted overfishing, flying fish don't return to Bim in the numbers they once did. Instead, they now hang closer to Tobago. That's right, the official fish of Barbados now spends more time with Tobagonians! Scandalous! Add in a disputed maritime border and you've got a recipe for disaster.
Indeed, between 1990 (when the original disputed border went into effect) and 2004, there was an escalating tension between fishermen and politicians alike over who had the right to bring home these unique and delicious wonders of the sea from the waters between the islands. It came to a head in 2004 when the Barbados government challenged TnT in the Permanent Court of Arbitration at the Hague, the Netherlands over their national fish!
In the end, Barbados succeeded in getting the fishing boundaries redrawn — but to neither island nation's ideal specifications. Still, both sides claimed victory, naturally. (Even though, between you and me, the new borders are a bit closer to Trinidad and Tobago's proposed lines… Shhhh.)
Anyway, regardless of the politics, Barbados is the place for flying fish and the best way to sample this treat for yourself is by ordering up a fried flying fish cutter with a little hot pepper sauce and, if you like, some mayo. Throw in a salad on the side plus some macaroni pie and you're in for a treat!
As for the best place to order up flying fish cutters? Well, one of my favorites is the appropriately named Mr. Delicious.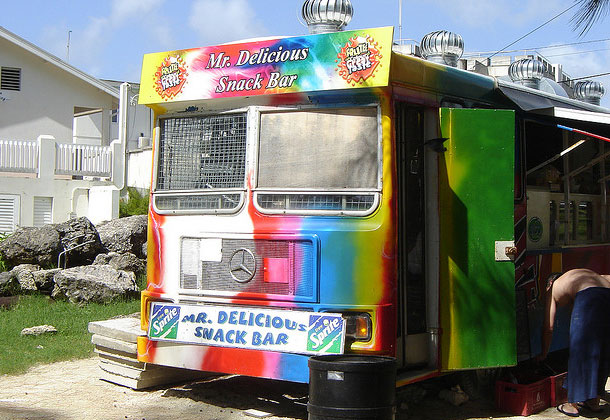 You'll find him in a converted bus turned food truck parked under the shady pines at Miami Beach — conveniently located within walking distance of my perfect fantasy beach house! There you can enjoy your freshly fried cutters with the added benefit of some sand between your toes and an ice-cold Banks (the official Beer of Barbados) in your hand just like a good Roman Bajan.
Enjoy!
Related Posts