Dear Caribbean… An Open Love Letter from a Freezing Native New Yorker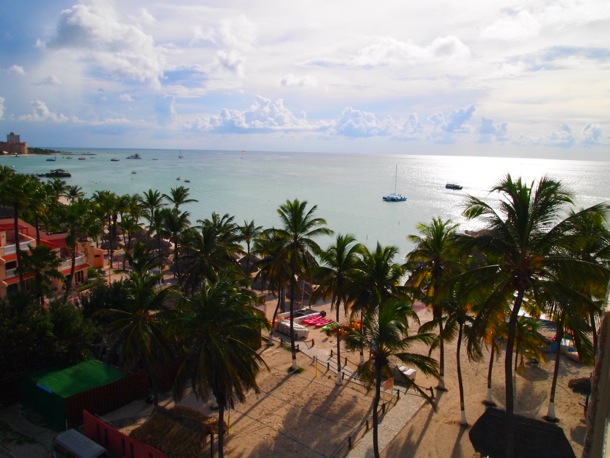 Steve's Editor's Note: Like so many of you brave UC readers, my old friend and Caribbean travel PR colleague, Hilari Graff, is suffering through another interminably frigid winter in the Northeast. Though haunted by grey skies, snow and cold, Hilari tells me her spirits have been buoyed  by our daily posts and memories of past Caribbean adventures. In this love letter to the Caribbean, she shares a few sentiments I'm sure most of you can relate to…
I am a born and raised New Yorker who does not hate the winter. I admire the beauty of a scenic snow-scape, laugh endlessly with my kids while playing in the white stuff, and love excuses to sip hot chocolate.
But, eventually as the winter season trudges on in the Northeast – the frigid temperatures, the painful wind that whips my face as I walk to midtown meetings, scraping ice off my windshield – it all gets old…
That's when I sit back and recall a kaleidoscope of Caribbean memories I hold dear to my heart – the images, the flavors, the scents and the experiences – that warm my spirit and inspire me to book my next trip. Here I share with you a "love letter" of sorts – highlighting what I miss terribly about the Caribbean as I stare at the snow (albeit melting) outside my window.
Sun, Sand & Sea
It may be more common than what's normally covered here, but after months of living in an icebox, it's what I want the most! Large expanses, small sandy swaths, sugar-white private coves – I'll take 'em all!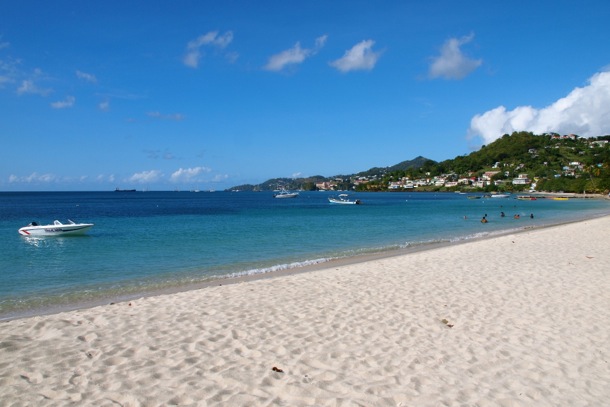 If I close my eyes and think hard enough, I can feel the sprinkles of sand through my toes and the warm sun on my skin, and hear the rhythmic hum of the Caribbean Sea as it rushes onto shore. Mmmm…
Beach pursuits are usually the order of the day for me in the Caribbean – relaxing on a comfy lounge chair as I read or gaze at the horizon, walking along the shore dancing in and out of the water, playing in the sand and in the waves. To me, there's no better place for all of this than Grand Anse in Grenada – a curved ribbon of gorgeous sand with seagrape trees dotted about – and it fronts one of my most adored places to stay – the spectacular Spice Island Beach Resort.
Beer
There's nothing like that first Red Stripe in Jamaica. Mine just happened to be the very first Caribbean beer to ever kiss my lips, a seminal experience that easily qualified as the most memorable part of my first business trip to the region. That first sip gave birth to what's become a lifelong appreciation for the region's local beers, igniting a tasty mission of discovery.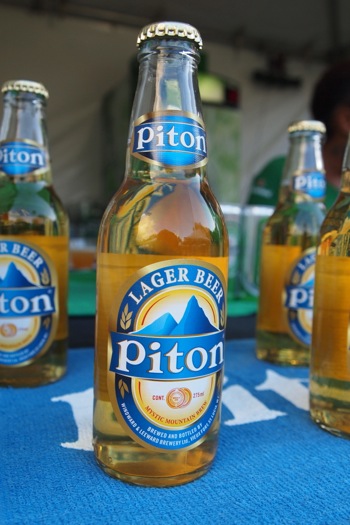 Kalik from the Bahamas. Banks from Barbados. Piton from St. Lucia. Balashi from Aruba. All are perfectly refreshingly when cold, almost silky smooth on the way down, and the ideal complement to any warm West Indian day (or night). For me, though, it's more than the beer itself – it's the experience of savoring these true tastes of the Caribbean against the region's stunning landscapes…
Food
On another work trip to the Caribbean years ago, someone said to me "I've come to expect less from my meals in the Caribbean," and I was immediately perplexed. Aside from tasting expertly prepared cuisine on more occasions that I can count, I've been treated to many of my favorite "foodie firsts" in the Caribbean. Jerk chicken, made and purchased by the side of the road between Montego Bay and Ocho Rios. Nutmeg ice cream in Grenada, presenting the ideal amount of creaminess and nuttiness. Yummy flying fish and other island favorites at Oistins Fish Fry in Barbados – the flavors were so fresh and authentic, and the local atmosphere was amazing. Callaloo soup, oh gorm!
Fun
Snorkeling in St. John. Hiking in the rainforest at Grand Etang. Channeling the ancient Mayan spirit at Xcaret in Cancun. Shopping at Earthworks Pottery in Barbados. Wandering along the beach in Nevis. The rums of Puerto Rico. The list is truly endless. Of particular note, our first family vacation to Aruba – my son digging sand with a purpose, my daughter jumping in the warm water and swirling around like a fish, my husband rediscovering his inner child at De Palm Island…
Friends
I would be remiss not to celebrate the amazingly gracious, kind (and fortunate, considering my current snowbound state) people who call the Caribbean home 365 days a year.  I've been lucky enough to meet and befriend so many truly incredible people throughout my Caribbean travels, each of them eager to share a love for their respective home islands so deep it's absolutely contagious. Without them, my Caribbean experiences would not have been the same.
I am privileged to have such amazing memories of this tropical region that gets under your skin – in all the best ways – to provide much-needed warmth on days when the snow and wind are downright frightful outside. Now, I REALLY need to start planning my next trip! The Caribbean beckons…
This is Hilari's first guest post for Uncommon Caribbean, but by the sound of things, she'll have a new Caribbean adventure to report back to us on soon. 
Related Posts