Chairman's Reserve Spiced Rum Literally Offers Sex in a Bottle
Chairman's Reserve may be the #1 Rum for Young St. Lucians, as my brother asserted earlier, but if those young St. Lucians are in the mood for some lovin', then you're more likely to find them sipping Chairman's Reserve Spiced Rum.
This spicy new blend is h-o-t-t, HOT. Real hot, and sexy too. It's a notion underscored quite emphatically by the blood-red lettering of the word "Spiced" within an equally red box right on the front of the bottle.
The presentation comes across almost like a warning label – something you might see at the side of a box of some pain reliever advising against over-dosing, side-effects, and other assorted dangers.
If there's an implied warning here, though, it's probably something more like…
If you ain't feelin' sexy, do not consume.
What makes Chairman's Reserve Spiced Rum so sexy?
Well, just the simple fact that it hails from St. Lucia certainly helps. If you've been, then you already know: this is one seriously sensual island blessed with some of the world's most breathtaking natural wonders, intimate hotels, secluded beaches, and an alluring island vibe that's equal the aphrodisiac of any blue pill.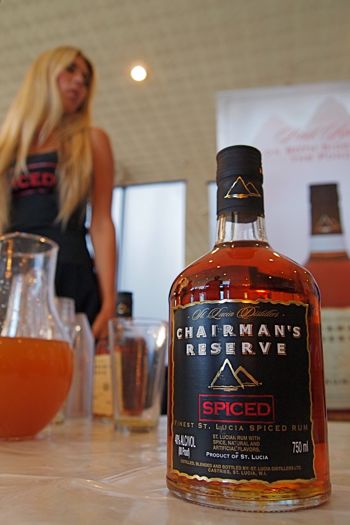 Of course, the stuff that's actually in the bottle helps even more.
Chairman's Reserve Spiced Rum bursts with many of the typical flavors found in many spiced rums – cinnamon, clove, nutmeg, vanilla, coconut, allspice, lemon, and orange. When I tried it at the 2011 Miami Rum Renaissance Festival, I found the cinnamon and cloves to stand out the most, both on the nose and upon first taste. Overall, it's a bit heavy on the spices for my particular taste (Cruzan 9 remains my top choice among spiced rums), but I wouldn't say it goes as far as Kilo Kai or the ultra-popular pirate in muting the rum flavor.
What's tougher to detect is the magical ingredient that actually puts the sex in this sexiest blend – the spiciest Caribbean spice: richeria grandis, better known as our old friend Bois Bande.
Bois Bande effects
As we've noted here and here, bois bande is one of the more popular, potent, and infamous aphrodisiacs in the Caribbean. Its inclusion among the spices here speaks to the intentions of all who ask for Chairman's Reserve Spiced Rum by name. But, there's more to the science of how Chairman's combines Bois Bande with the other flavors to achieve this special blend. Here's how they describe the process:
These spices and fruits are added to rums distilled in copper alembic pot and continuous stills that are then aged in Kentucky Bourbon barrels to give a complex and balanced spice rum. We have found Chairman's Reserve Spice benefits from a combination of steeping certain spices and Bois Bande in the rum for up to a year while the other ingredients are added during the blending process. In this way we can bring out the flavour of the spices and fruits while preserving the complexity and harmony of the underlying rum.
It's a winning combination for sure, though one that I much prefer in mixed drinks, or simply accompanied by some ginger beer, rather than neat or on the rocks. It would definitely add a new dimension to a Blood Orange Daiquiri as there's a decidedly bolder spice flavor in Chairman's vs. Sailor Jerry.
Either way, if you like spiced rums that are big on spice, and don't mind getting a little boost for the bedroom with your cocktail (who would?), then give this Chairman's a try. You and your partner won't be disappointed…
Cheers!
And don't forget about Chairman's other fine rums including Forgotten Casks and Legacy!
Related Posts